Massachusetts Statewide Hazard Mitigation and Climate Adaptation Plan
Massachusetts has integrated climate change impact assessments and planning into its Statewide Hazard Mitigation Plan. The natural hazards assessment conducted for this plan determines how hazard risks and vulnerabilities are made more severe or uncertain by climate change. The plan outlines climate change impacts and adaptation strategies for five key sectors including - Populations, Government, Built Environment, Natural Resources and Environment, and Economy.
Massachusetts 2016 Executive Order 569 directed executive agencies to develop and implement this statewide Climate Adaptation Plan, as well as to build a framework for each state agency and municipality in Massachusetts to assess their vulnerability to climate change. The Risk Assessment (Ch. 4) integrates information from nearly 80 state agency climate change vulnerability assessments undertaken during development of this plan in response to EO 569.
Climate change is projected alter or amplify natural hazards across Massachusetts, often increasing risk, severity or frequency of these events. Primary climate impacts considered for the assessment or "climate changes" include changes in precipitation, sea level rise, rising temperatures, and extreme weather. One of these primary climate changes has been identified for each hazard (other than earthquakes) for the purpose focusing priority strategies for this plan.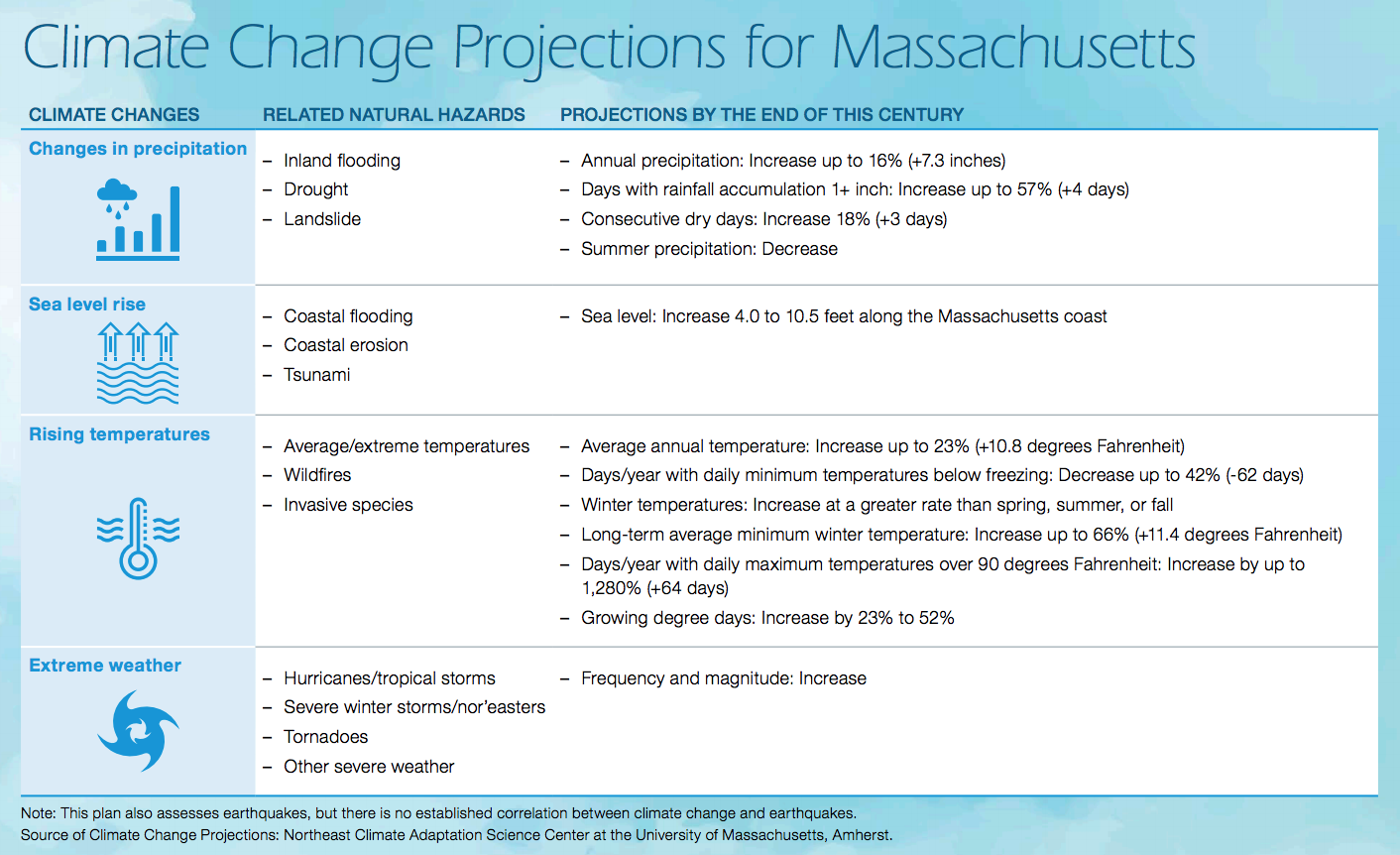 A summary profile of each natural hazard in the assessment provides an overview of the potential effects of climate change as related to that hazard. The exposure and vulnerability of the key sectors (populations, government, built environment, natural resources and environment, and economy) to that natural hazard are described. 
| | |
| --- | --- |
| | For each natural hazard addressed in the plan, the populations at-risk to these hazards are identified.  Additionally, the impacts on vulnerable populations were assessed and incorporated into each hazard profile. Vulnerable populations discussed in the plan that are found to be most impacted by climate change and natural hazards include elderly, children, disabled, low-income, communities of color, and low English proficiency populations - as well as individuals with physical and mental health conditions. |
The Hazard Mitigation and Climate Adaptation Strategy is found in Chapter 7. This strategy with over 100 specific hazard mitigation and climate adaptation actions were developed using the findings of the risk and vulnerability assessments. The strategy is also based on the analysis provided in Chapter 6: State Capability and Adaptive Capacity Analysis. Opportunities to reduce natural hazards and climate risks were analyzed for existing capacity within state government authorities, policies, programs, staffing, and funding.   
The Strategy outlines actions for all Executive Offices and over 20 state agencies. All actions address at least one of the primary climate changes and other associated climate change impacts as identified in the risk assessment. Each action includes the estimated time frame for completion, lead agency, agency priority score, and possible funding sources - along with the primary climate change interactions.
Actions were prioritized by each lead agency using a prioritization tool and agreed-on metrics. Prioritization criteria included analysis of 21 different parameters under three categories of Relevancy, Resiliency, and Cost and Time - including factors such as cost-effectiveness, ability to meet multiple goals, environmental soundness, avoided losses, and technical feasibility, and more. Nature-based solutions were among the actions of highest priority ranking.
Below is an example action as presented in the strategy. Each is designated for, and ranked by a particular state agency, and presented in terms of priority and time frame for completion.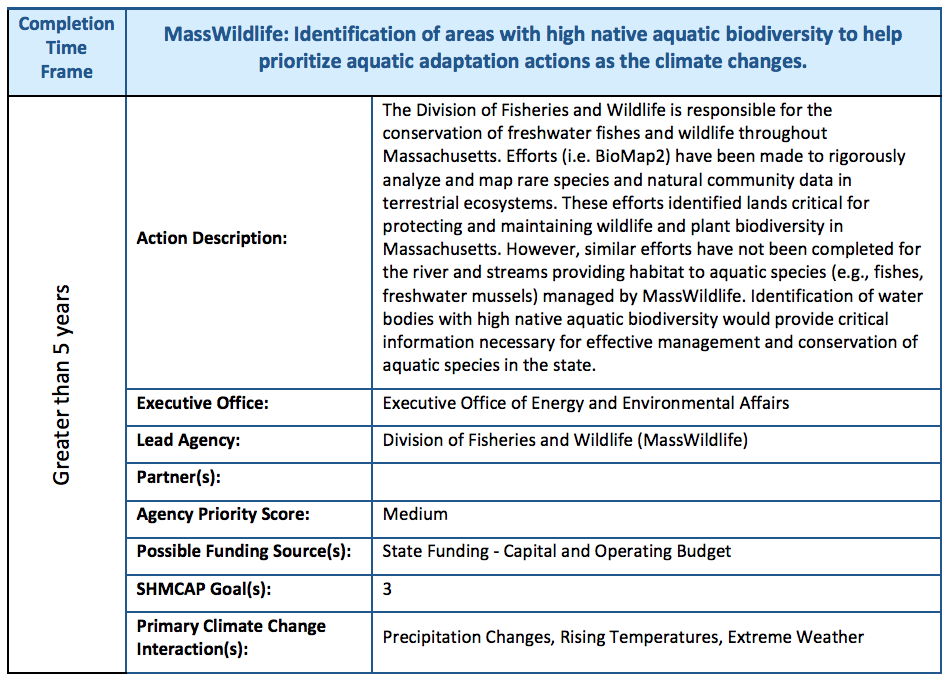 Chapter 10: Coordination of Local Hazard Mitigation and Climate Adaptation Planning describes state programs that provide technical assistance to local governments in hazard mitigation and adaptation planning.  The Municipal Vulnerability Preparedness program, is a grant program that provides support for Massachusetts communities to plan for climate change impacts and to implement key adaptation and resilience measures.
This plan builds upon the state's 2013 Hazard Mitigation Plan and the 2011 Climate Change Adaptation Report. 
Publication Date: September 17, 2018
Related Organizations:
Related Resources:
Sectors:
Resource Category:
Resource Types:
States Affected:
Impacts:
Air temperature
Precipitation changes
Socioeconomic