NOAA 2017 State of U.S. High Tide Flooding with a 2018 Outlook
NOAA has produced this annual update of the state of coastal high tide flooding every year since 2014. This type of flooding occurs when water levels measured at NOAA tide gauges exceed heights based on the national flooding thresholds that are released in February by NOAA's Center for Operational Oceanographic Products and Services. This report updates high tide flood frequencies during 2017 (based on the meteorological year: May 2017-April 2018) at 98 NOAA tide gauges, and provides a statistical outlook for 2018 (May 2018 - April 2019). Communities can use this information to estimate their risk of coastal flooding, and to help build resiliency into planning for the long-term impacts of sea level rise.
Regionally, high tide flooding in 2017 was most prevalent along the Northeast Atlantic and Western Gulf of Mexico coasts in response to active nor'easter and hurricane seasons. The Southeast Atlantic coast is now experiencing the fastest rate of increase in high tide flood days, with more than a 150% increase since 2000 at most locations. Due to a consistent increase in local sea level rise, coastal flooding is found to be increasing in frequency, depth and extent in many areas of the U.S. The top five cities that had the highest number of flood days across the U.S. coasts - and broke records this year - are: Boston, Massachusetts; Atlantic City, New Jersey; Sandy Hook, New Jersey; Sabine Pass, Texas; and Galveston, Texas.  
According to NOAA, although yearly and regional variability occurs, the overall trend is that due to sea level rise, the national average frequency of high tide flooding is double what it was 30 years ago. The projected increase in high tide flooding in 2018 may be as much as 60% higher across U.S. coastlines as compared to typical flooding about 20 years ago and 100% higher than 30 years ago.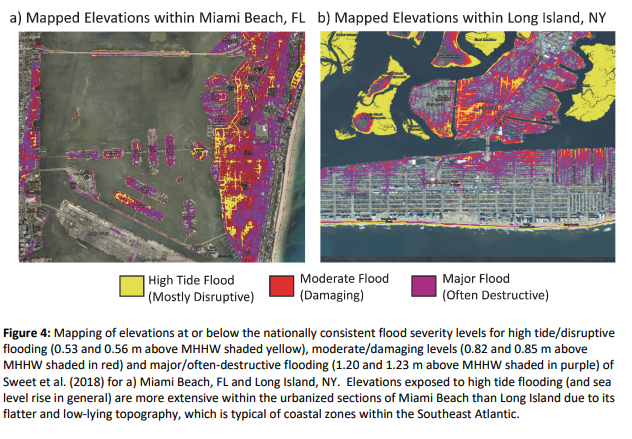 Publication Date: June 6, 2018
Related Organizations:
Sectors:
Resource Category:
Resource Types:
Impacts: