Norfolk Vision 2100
The City of Norfolk Virginia's Vision 2100 sets out a high-level strategy to adapt to sea-level rise and flooding through the end of the century. By taking this long-term approach, Norfolk hopes to begin making planning and investment decisions now that will help ensure it remains a "dynamic, water-based community" as climate impacts become increasingly acute in the future.
The plan outlines a set of citywide actions, including focusing major infrastructure investments in the most resilient areas (defined as those least likely to be affected by sea-level rise or where existing economic resources justify spending additional funds on flood-protection measures). Other citywide actions include improving transit connections and developing policies to create a more resilient, affordable housing market. 
The plan also divides the city into four distinct areas based on topography and sea-level-rise projections; existing and future assets; and current and future development patterns. Within each of the four areas, the city establishes separate goals and actions to respond to unique challenges and opportunities. These areas include:
Red Areas – Consisting of the Downtown Waterfront; neighborhoods adjacent to Naval Base Norfolk; ports and shipyards; and universities and medical facilities - these areas contain highly valued assets but are faced with high levels of flood risk.

 

Norfolk determined that these high-value areas should be secured with major flood-control investments that protect from water while preserving access to it. These controls include flood walls, tide gates and pumps, as well as green infrastructure. Because the city expects to make major investments in red areas, it will also work to direct public and private investment there to promote increased density. 
Yellow Areas – have fewer key community assets but a higher risk of flooding.

 

In these areas, Norfolk plans to focus investments on infrastructure that "extends resilience," educate the public about the risk of recurrent flooding, and develop programs, such as transferable-development rights, to help property owners recoup economic value lost to sea-level rise. Some of these neighborhoods are historic areas for which the city will seek out new protection mechanisms.
Green Areas – have both high-value existing uses (such as hospitals), and underdeveloped parcels (such as a parking lots), which occupy zones of the city at relatively lower risk from sea-level rise and recurrent flooding.

 

Norfolk aims to redevelop these areas with an eye to transit-oriented, urban centers that will be reasonably safer from flood risk and, with proper planning, can accommodate projected increases in population. 
Purple Areas – purple areas cover stable neighborhoods that are at relatively lower risk of flooding from sea-level rise and that could benefit from additional incremental investments in connections to city economic centers. Here, the city hopes to make investments that enhance neighborhood attractiveness while maintaining affordability.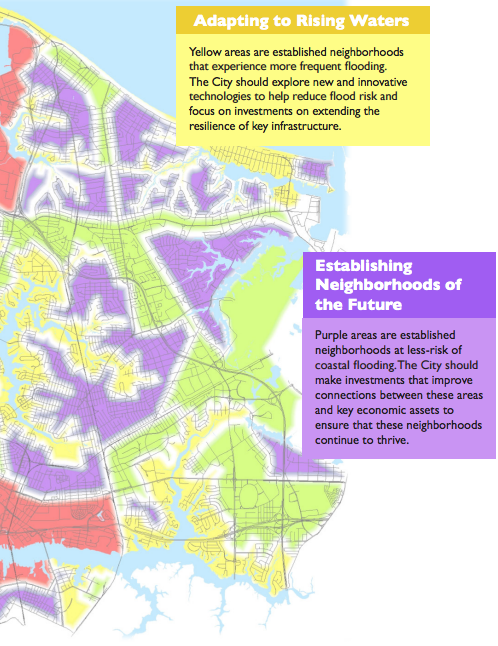 The plan arose out of Norfolk's induction into 100 Resilient Cities (100RC), a network of global cities selected by the Rockefeller Foundation to address the impacts of climate change. Norfolk adopted a whole-city approach for Vision 2100, planning not just for the localized impacts of sea-level rise, but also for how they would affect other areas, such as neighborhoods at higher elevations that rely on threatened areas for vitality and underdeveloped neighborhoods, which may need to one day absorb growth from other areas displaced by sea-level rise.
Planners engaged in extensive consultation with residents and other stakeholders. They included staff from the departments of City Planning, Communications and Technology, and Neighborhood Development, the Resilience Office, and the City Manager's Office; members of the Norfolk City Council and Norfolk City Planning Commission; and more than 500 participants from the general public. The working group first started raising awareness of its long-range initiative by creating an outreach campaign that included attendance at local festivals and events, appearances on local media, attending educational institutions to solicit feedback, and a social media campaign which included its own hashtag. These efforts all went toward alerting the public of the existence of the development of the plan, and sought public feedback about which assets the city's residents valued most.
The city formally adopted Norfolk Vision 2100 as an element of its comprehensive land-use plan, plaNorfolk2030, to ensure that its suggestions become an integral element of city policy. Norfolk Vision 2100 stresses, however, that the document is not a comprehensive plan itself and suggestions will require added analysis before implementation. Vision 2100 does not seek to provide guidance on the best uses of land, as the comprehensive plan does, but instead offers general guidance on approaches to development and sea-level rise adaptation. The aim is to help guide land-use decisions today that will affect the city in 2100. 
Publication Date: November 22, 2016
Related Organizations:
City of Norfolk, Virginia
Related Resources:
Related Toolkits:
Sectors:
Resource Category:
Resource Types:
States Affected:
Impacts:
Air temperature
Precipitation changes
Wind