Ola Oahu Resilience Strategy
The O'ahu Resilience Strategy, developed by the City and County of Honolulu, Hawaii is focused on adapting to shocks and stresses on the island - primarily increased cost of living and climate change impacts in Honolulu. The Strategy offers 44 Actions across four focal areas or Resilience "Pillars" of Long-term Affordability (local economy), Disaster Preparedness, Climate Security, and Community Cohesion for the island and communities of O'ahu. The Strategy is critical for planning on O'ahu's social, economic and environmental sustainability as, according to the report, "45% of O'ahu residents live in a household where someone is contemplating leaving, and 78% of residents believe that climate change is going to impact them personally."
Honolulu is one of the few "city and county" combined jurisdictions in the nation. It is the 11th largest municipality in the U.S., with nearly 600 square miles and approximately one million residents - and along with the large city, the county is also a network of small towns, rural communities, and farms. The Strategy takes all of this into account - while informally defining resilience as where the economy and the environment meet. To inform climate resilient planning while balancing economic and environmental goals, the Strategy offers recommendations within each of the four Pillars:
Pillar I: Remaining Rooted
Oahu has what is considered to be the highest quality of life, as well as the highest cost of living, in the nation. Honolulu intends to develop more sustainable locally based resources such as agriculture, and improve social equity such as by increasing affordable housing opportunities.
Pillar II: Bouncing Forward
Hurricanes, flooding, and extreme weather events are occurring more frequently on Oahu, and climate change is generally considered a threat multiplier. The Goals of this domaine are to improve Pre-Disaster Preparation, Response, and Recovery for these events, and Actions are recommended for each of these categories.
Pillar III: Climate Security
Honolulu intends to transition to a 100% clean energy economy, and to upgrade both infrastructure and local policies to prepare for climate change. Primary climate impacts in the region include increased sea level rise, coastal erosion, rainfall flooding and extreme heat. 
Pillar IV: Community Cohesion
Honolulu will foster community-level connectivity and collaboration to be able to collectively address economic and environmental challenges - through actions such as improving neighborhood-level preparedness and outreach, and initiating place-based resilience training.
The 44 Actions from across the pillars include a Description, Resilience co-benefits, Partners involved, Timeframe, Measures of Success, and a Spotlight which offers a story of the action already implemented. Additionally, the actions are described in relation to the Aloha+ Challenge sustainability goal(s) and the United Nations Sustainable Development Goal(s) that align with the action.
Within the Climate Security section, Actions under the Goal of a Climate Resilient Future include to:
Chart a Climate Resilient Future by Creating and Implementing a Climate Adaptation Strategy

Protect Beaches and Public Safety with Revised Shoreline Management Rules

Protect Coastal Property and Beaches Through Innovation and Partnerships

Establish a Storm Water Enterprise Fund to Better Finance Storm Water Management

Deploy Sustainable Roof Systems to Manage Urban Heat and Rainfall

Keep O'ahu Cool by Maintaining and Enhancing the Community Forest

Minimize Economic and Property Risk within the Ala Wai Canal Watershed
Using the last Action listed here as an example (to minimize economic and property risk…), the Strategy offers this same kind of information for all of the Actions: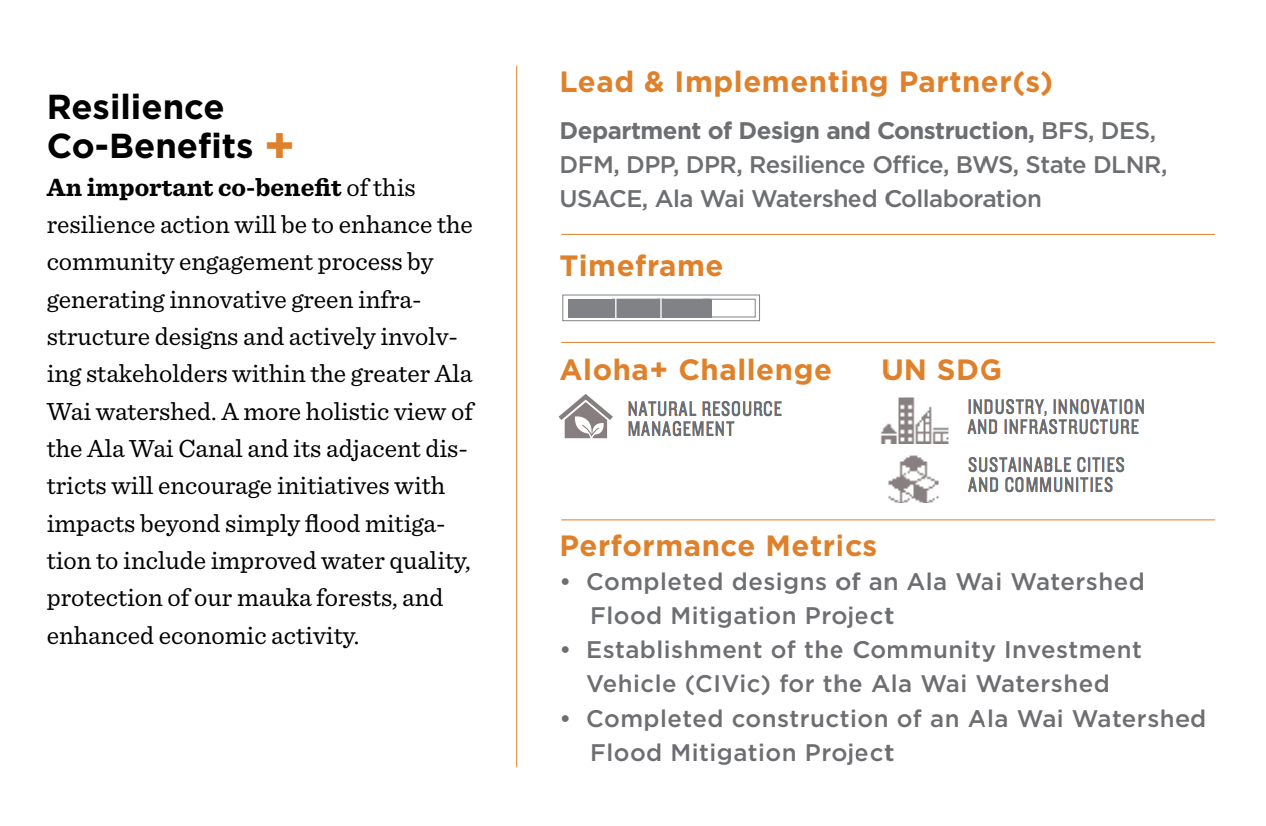 Honolulu was selected in May 2016 to join the third cohort of the Rockefeller Foundation's 100 Resilient Cities (100RC) initiative, and used that training and framework to develop this plan. The City will continue to leverage the 100RC Network to identify solutions to shared challenges, and improve O'ahu's resilience.
Publication Date: May 31, 2019
Related Organizations:
City and County of Honolulu, Hawaii
Sectors:
Land management and conservation
Tourism and recreation
Resource Category:
Resource Types:
States Affected:
Impacts: