Philadelphia, Pennsylvania Community Heat Relief Plan
The City of Philadelphia, Pennsylvania addresses extreme heat and social disparities in its Beat the Heat Hunting Park Community Heat Relief Plan. The plan provides a roadmap of how to conduct an inclusive climate planning process through a community-based approach to combat urban heat emergencies. Beat the Heat was released in July 2019 by Philadelphia's Office of Sustainability (OOS), in response to increased heat being identified as one of the main climate change threats in the city. OOS found that communities, where low-income residents and residents of color reside, are also most vulnerable to the heat. To cope with the heat disparities, OOS initiated the Beat the Heat pilot project in Hunting Park, which was identified as the most heat vulnerable neighborhood. The purpose of the project is to learn the causes of heat disparities and utilize a community-driven decision-making process to generate possible solutions for staying cool in the future. The plan is a collaborative work effort of city agencies, Hunting park organizations, residents, and community groups. Through the community engagement process, three priority areas were identified: 1. Staying cool and safe at home, 2. Staying cool and safe in public spaces, and 3. Greening and tree planting. The plan also provides a step-by-step Beat the Heat Toolkit toolkit for other urban communities to reduce social inequities and build climate resiliency.   
Extreme heat has been one of the top public health issues in Philadelphia. Through mapping, the Philadelphia Heat Vulnerability Index shows that low-income residents and residents of color are more likely to live in hotter neighborhoods. According to the report, part of the reason is due to the lasting effects of the redlining discriminatory policy of the 1930s, through which the federal government and private sectors discouraged providing home loans in communities with high percentages of new immigrants and people of color. This systematic disinvestment also led to long-term environmental injustices. The plan addresses the city's built environment and found that areas where a majority of Black and Hispanic residents currently live have less tree canopy and green space, and have more pavement and exposed asphalt. They also have less access to resources to repair their aging homes to adapt to extreme heat.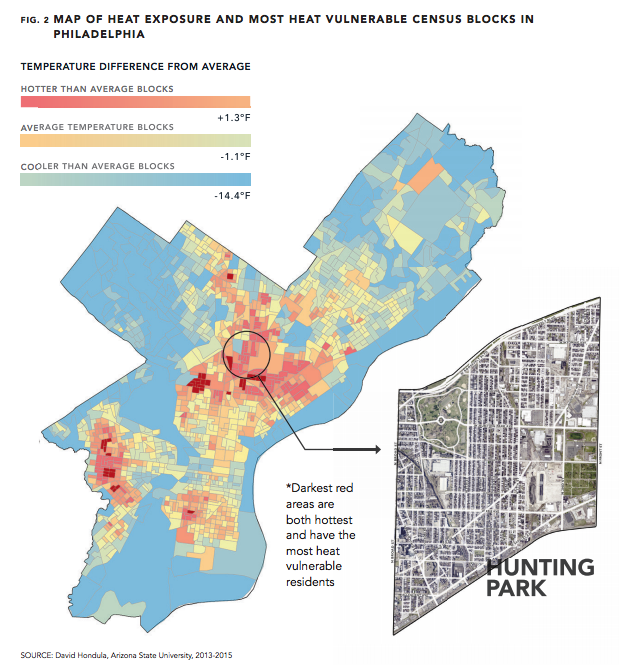 Recognizing the heat disparities in the Hunting Park neighborhood, the city adopted an inclusive climate adaptation planning approach that put marginalized communities' voices and experiences at the center and ensures that they are reflected in the planning and proposed solutions. To build trust and relationships, various community engagement strategies have been utilized throughout the planning process. Some strategies include forming a Hunting Park Heat Team with more than 30 government departments, community organizations and stakeholders; recruiting a team of resident Beat the Heat ambassadors; establishing Beat the Heat Design workshop with over 40 residents to map out the cooling interventions; and building Heat Relief Network by organizing existing faith leaders and community organizations in Hunting Park. Other engagement activities include holding Beat the Heat Kick Off parties and hosting an Environmental Wellness fair and tree giveaway. A Beat the Heat Mobile Station was also built to bring community awareness and provide heat-related information to the community.   
Building on the efforts of this community engagement, a Hunting Park heat survey was conducted to learn about residents' experiences and recommendations. More than 600 responses were received and ten stakeholder interviews were further conducted. Considering the high percentage of Hispanics in Hunting Park, the survey was conducted in both English and Spanish and the plan was later released in both languages as well. The Plan lays out the survey results and categorizes them into three topics: home cooling, public space cooling, and trees and greening. Each cooling strategy has with corresponding maps and recommendations to help build a climate-resilient neighborhood.
The Hunting Park Heat Plan pilot has led the OOS to create a Beat the Heat Toolkit with step-by-step guidance for communities facing similar situations which includes 10 steps for building climate resilience for heat disparities:  
Background Research 
Establish a Heat Team 
Hold Stakeholder Interviews 
Conduct a Neighborhood Survey 
Organize Community Events 
Appoint Beat the Heat Ambassadors 
Beat the Heat Mobile Station 
Hold a Beat the Heat Design Workshop 
Promote Trees and Neighborhood Greening 
Build a Heat Relief Network 
With this eight month collaborative work product, the OOS and the City Heat Team intend on the following next steps towards implementation as listed in the Plan: 
Continuing to implement projects that support cooling in Hunting Park, including additional tree plantings and the installation of green stormwater infrastructure 

Reviewing city policies related to land use, green infrastructure, transportation, and outreach to consider how they might address heat 

Launching a Hunting Park Heat Relief Network in the summer of 2019 

Sharing the Beat the Heat Toolkit with other heat vulnerable communities 

Undertaking a Citywide Climate Adaptation Plan to understand how climate change will impact different areas of the city and to begin planning how to mitigate those impacts

Identifying better ways to communicate about heat and cooling resources, including establishing a City Heat website to make it easier for residents to find cooling resources.
Publication Date: July 2019
Related Organizations:
City of Philadelphia, Pennsylvania
Related Toolkits:
Sectors:
Resource Category:
Resource Types:
Plans (other)
Tool (general)
States Affected:
Impacts: