Regional Impacts of Climate Change and Issues for Stormwater Management
This report describes the stormwater management challenges that Southern Florida faces due to climate change and offers several recommendations for how these issues can be addressed. It discusses three basin scale strategies: Everglades restoration, adjusting regional water control practices, and small scale adaptation efforts. Local governments can also play a pivotal role by investing in green infrastructure and implementing financing strategies for stormwater management. This guidance document is one in a series of publications designed to assist county and municipal policymakers, administrators and program staff with implementation of the 110 recommendations contained within the Southeast Florida Regional Climate Change Compact's 2012 Regional Climate Action Plan.
The report provides an overview of Southern Florida's system for stormwater management and the history of stormwater management in the region. Through this narrative, it describes an intricate system of canals, levees, spillways, pumping stations and surface water impoundments that provide flood control, protect water supply, and prevent saltwater intrusion in an increasingly built environment. The report then details the impacts that climate change will have on the existing flood protection, drainage systems, water supplies, and natural ecosystems.
Additionally, an overview of financing strategies available to support stormwater systems is provided, including a table comparing various funding options (see below) as well as a real world example of how Ft. Lauderdale is financing their climate resilience actions.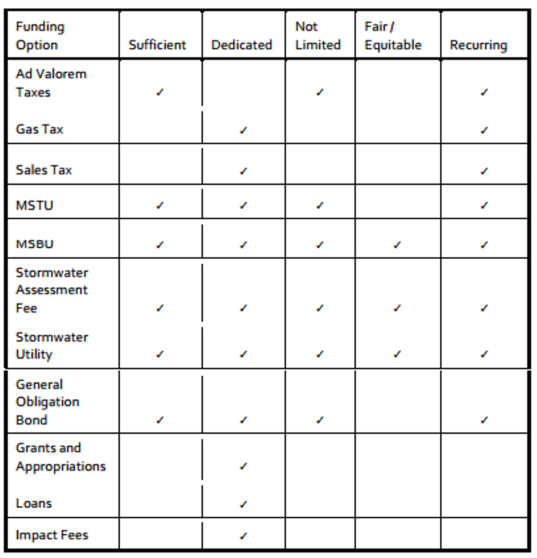 The report also presents several small case studies relevant to green infrastructure projects, including a bio-filtration wall in Coconut Creek, Florida, which recycles stormwater for building use while serving as a piece of public art. It concludes with a larger case study of the City of Miami Beach's efforts to create a stormwater management plan, leveraging $430 million in capital investments to protect public safety and property. This case study describes Miami Beach's unique vulnerability to extreme storms, their approach to ensuring their stormwater management system is properly maintained, and the role of dunes in protecting against storm impacts.  
Publication Date: October 30, 2015
Related Organizations:
Sectors:
Resource Category:
Resource Types:
Case study
Policy analysis/recommendations
States Affected:
Impacts: