Rigorously Valuing the Role of U.S. Coral Reefs in Coastal Hazard Risk Reduction
This report issued by the U.S. Geological Survey and the U.S. Department of the Interior quantifies the value of U.S. coral reefs in protecting people and infrastructure from coastal hazards that will be exacerbated by climate change and sea-level rise including extreme weather events, flooding, and erosion. The report is intended to inform stakeholders and decision-makers of the value of coral reefs in reducing risk from coastal hazards, and to provide quantitative data that can be used to consider the role coral reefs should play in adaptation and risk mitigation planning. The flood and impact model structure used in this report can also be employed to model different risk scenarios involving climate change.
The report focuses on coral reefs as a nature-based solution to addressing coastal risks, evaluating the benefits of coral reefs as a defensive tool in the same rigorous way that conventional built infrastructure, like sea walls, are often assessed. Employing a combination of engineering, ecologic, geospatial, social, and economic tools, the report concludes that annually, U.S. coral reefs provide flood protection for:

This resource was featured in the May 10, 2010, ASAP Newsletter, with the following caption:
"These ecosystem services comprise some of the best adaptation strategies we can bring to bear on climate change. Coral reefs provide the United States with $1.8 billion in annual flood protection benefits. Mangroves sequester carbon, thrive in brackish waters and provide suburb shoreline stabilization as sea levels rise."
18,180 people;

5,694 buildings; and

33 critical infrastructure facilities.
Additionally, the report concludes that each year, U.S. coral reefs help avoid:
$825 million in flood damages to buildings;

$699 million in lost economic activity; and

$272 million in business interruption due to coastal hazards.
Altogether, coral reefs in the U.S. provide about $1.805 billion in risk reduction annually across the states of Hawaii and Florida; the territories of Guam, American Samoa, Puerto Rico, and the Virgin Islands; and the Commonwealth of the Northern Mariana Islands. Detailed tables at the end of the report  break down the economic benefits according to area, showing the number of children, senior citizens, and low-income individuals that benefit from the risk mitigation services provided by coral reefs, as well as the building, critical infrastructure, and economic interests protected in each area.
The report includes a detailed summary of the methodology and tools used to quantify the benefits of coral reefs, following approaches used by the Federal Emergency Management Agency.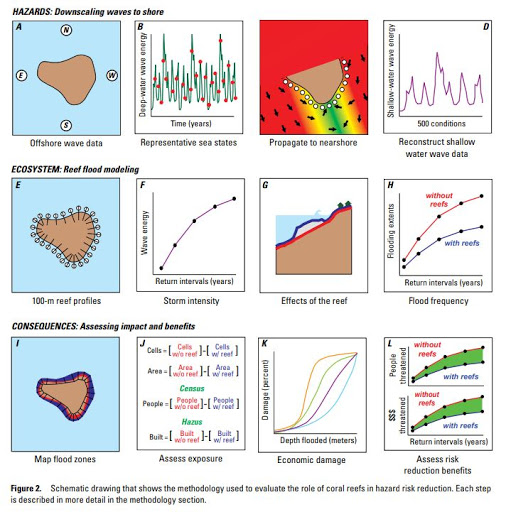 Publication Date: 2019
Authors or Affiliated Users:
Curt Storlazzi
Borja Reguero
Aaron Cole
Erik Lowe
James Shope
Ann Gibbs
Barry Nickel
Robert McCall
Ap R. van Dongeren
Michael Beck
Related Organizations:
Sectors:
Resource Category:
Resource Types:
Assessment
Assessment guide
States Affected:
Impacts: