Social Vulnerability to Climate Change in California
The objective of this project was to identify geographic areas within California with heightened risk to projected climate change impacts, to be applied as a guide to policymakers and affected communities on where to focus climate adaptation efforts. This study from the Pacific Institute addresses social vulnerability, or the susceptibility of a given community to harm, to climate change across the state. 



Understand where frontline communities across California are exposed to a variety of climate risks. 
To compare overall social vulnerability, the Institute developed a "climate vulnerability index" that combines data from 19 different social and economic factors - such as air conditioner ownership, percentage of tree cover, workers in outdoor occupations, and more - for each of the 7,049 census tracts in the state. Areas were ranked as high, medium, and low vulnerability based on their index scores. The vulnerability index was then overlaid with maps of projected exposure to extreme heat, particulate matter, coastal flooding, and wildfire to identify areas with high social vulnerability and high projected exposure to climate change disturbances. The areas of overlap indicate those areas with heightened risk of being impacted by these climate changes, as a result of both exposure and social vulnerability. 
The report first provides a review of existing literature on social vulnerability factors, summarizing the studies related to specific impacts including natural disasters, extreme heat, air quality, infectious disease, and impacts on natural ecosystems.  The methodology utilized in this analysis, including determining exposure and vulnerability, is described in detail in Section 3 - "Approach."  The results are provided in various formats including maps, tables by county, graphs of vulnerability factors, and in extensive analysis. Related vulnerability maps resulting from this research can be found on the Pacific Institute website.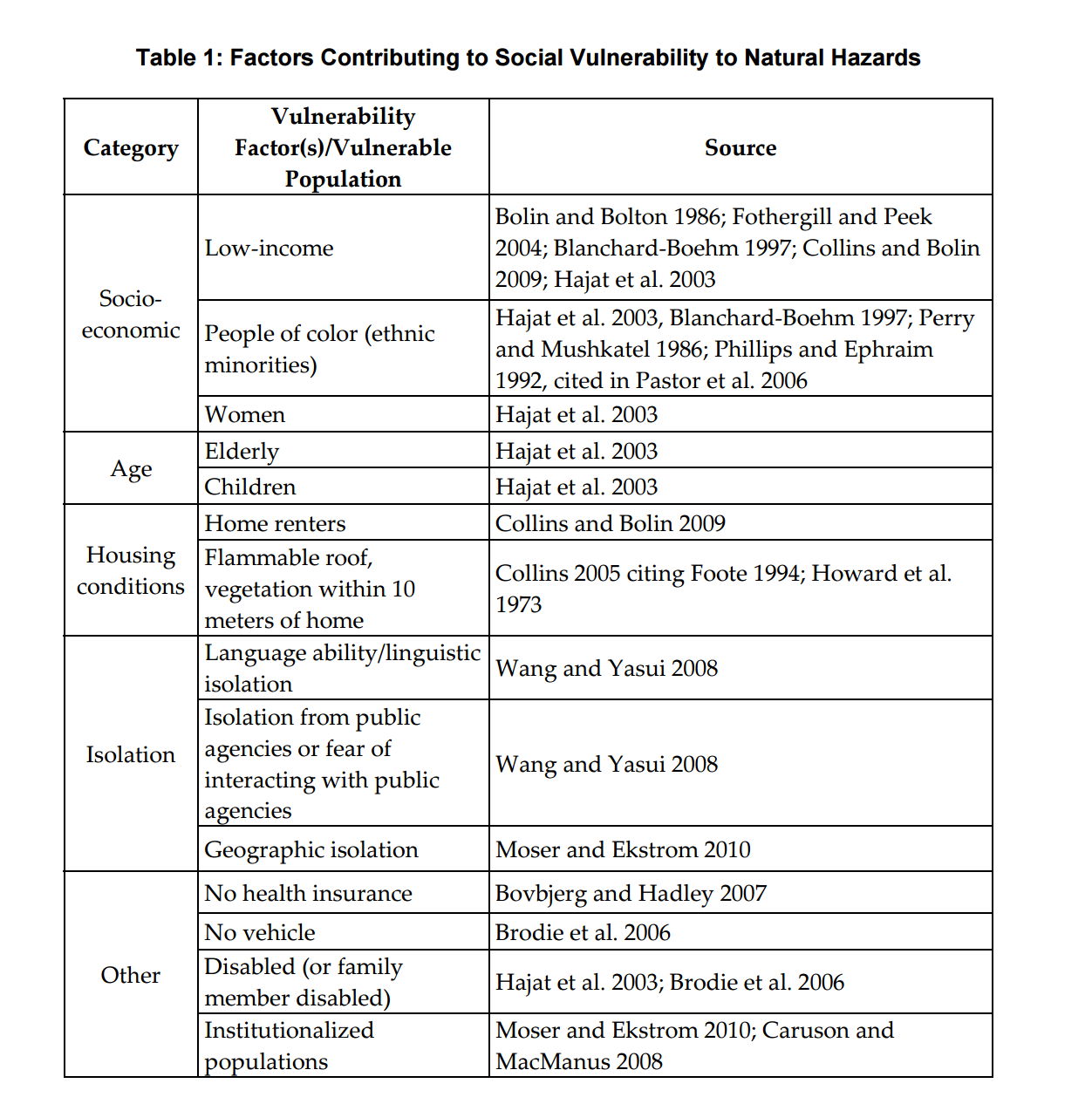 Publication Date: July 2012
Authors or Affiliated Users:
Heather Cooley
Eli Moore
Matthew Heberger
Lucy Allen
Related Organizations:
California Natural Resources Agency
Sectors:
Resource Category:
Resource Types:
States Affected:
Impacts:
Air temperature
Socioeconomic
Wildfires