When Rising Seas Hit Home
According to the Union of Concerned Scientists (UCS), hundreds of coastal communities in the U.S. have, or can expect to have, chronic and disruptive flooding inundation from sea level rise in the next few decades. This study identifies all of these communities that will experience enough severe flooding to require either large investments to defend or accommodate sea level rise, or, have to retreat and relocate. The analysis also identifies the "response time" remaining before such flooding occurs, and therefore gives affected communities perspective on the time they have to prepare.       

This resource was featured in the July 27, 2017, ASAP Newsletter.
"The analysis and accompanying report—When Rising Seas Hit Home—identified more than 90 U.S. communities already facing chronic inundation from rising seas caused by climate change, and provides a timeline for other coastal communities to prepare for similar inundation risks over the next century, taking into account different scenarios relating to the achievement of the long-term temperature goals of the Paris climate agreement."
UCS explains that, with sea level rise increasing vertical height and lateral reach of tides, high tide is now capable of flooding typically dry land, and on an increasingly frequent basis. UCS defines flooding that occurs 26 times per year (on average, once every other week) or more as "chronic inundation," and any coastal community that experiences this frequency of flooding over 10% or more of its land area, excluding wetlands and areas protected by federal levees, are considered "chronically inundated." According to the report, more than 90 U.S. communities already face chronic inundation from sea level rise, which goes up to nearly 170 communities in less than 20 years, and as many as 670 by the end of the century under the high emissions/high sea level rise scenario.
Some of the other significant findings by UCS are that:
More than half of these 170 communities exposed to chronic inundation within the next 20 years currently have socioeconomically vulnerable neighborhoods.
The chronically inundated communities projected by 2035 include the Jersey Shore, mainland side of North Carolina's Pamlico Sound, southern Louisiana, and Maryland's Eastern Shore - which currently experience or are nearby regular tidal flooding. 
By 2100 in the intermediate SLR scenario, nearly 490 communities will face chronic inundation, including more than 40 percent of all oceanfront communities on the East and Gulf Coasts.
There is still time to prevent such widespread flooding in hundreds of these communities by reducing emissions, future warming, and therefore the acceleration of sea level rise.
For hundreds of other communities, significant adaptation measures would have to be taken to avoid chronic inundation, including coastal retreat.
The study identified nearly 60 communities facing chronic inundation in the next 20 years that are also socioeconomically vulnerable - and therefore have fewer resources for sea level rise adaptation - using the Social Vulnerability Index, or SoVI. 

UCS mapped all chronically inundated communities under low, intermediate, and high level SLR scenarios over various timeframes, with additional maps of these frontiline communities (see the "Added Risks" maps) 

UCS suggests that policies need to be implemented to "avoid the wholesale abandonment of disadvantaged communities within chronically inundated zones; to prevent the gentrification of poor and working-class coastal communities; and to ensure more equitable outcomes generally."
The study inspired a number of policy recommendations to help coastal communities at risk of chronic inundation. Three categories of policy response are identified as critical:
Halting or phasing out current maladaptive policies and measures that perpetuate risky coastal development

Fostering resilience by using existing policy frameworks in ambitious ways with scaled-up funding

Creating and funding bold new policies and measures that respond to the full extent of the challenges communities face
Fortunately, aggressive emissions reductions could save hundreds of communities from chronic inundation by the end of the century. The study finds that holding warming to between 1.5 and 2 degrees Celsius by the end of the century (meeting the goals of the Paris Accord) could spare approximately 200 - 380 U.S. coastal communities, including nearly 50 major U.S. cities and many more cities worldwide, from chronic flooding and possible retreat, depending on the amount of sea level rise.
UCS also produced an interactive mapping tool with maps of affected U.S. coastal communities for all time frames and sea level rise scenarios included in the analysis. The maps show the communities affected by sea level rise, those that are more vulnerable, as well as those that could avoid repetitive flooding losses under the low rise scenario. Select timeframes to see which communities face chronic flooding, when, and over how much of their usable land area - as of today, in 2035, 2060, 2080 and 2100. Users can also click on a specific community for more details.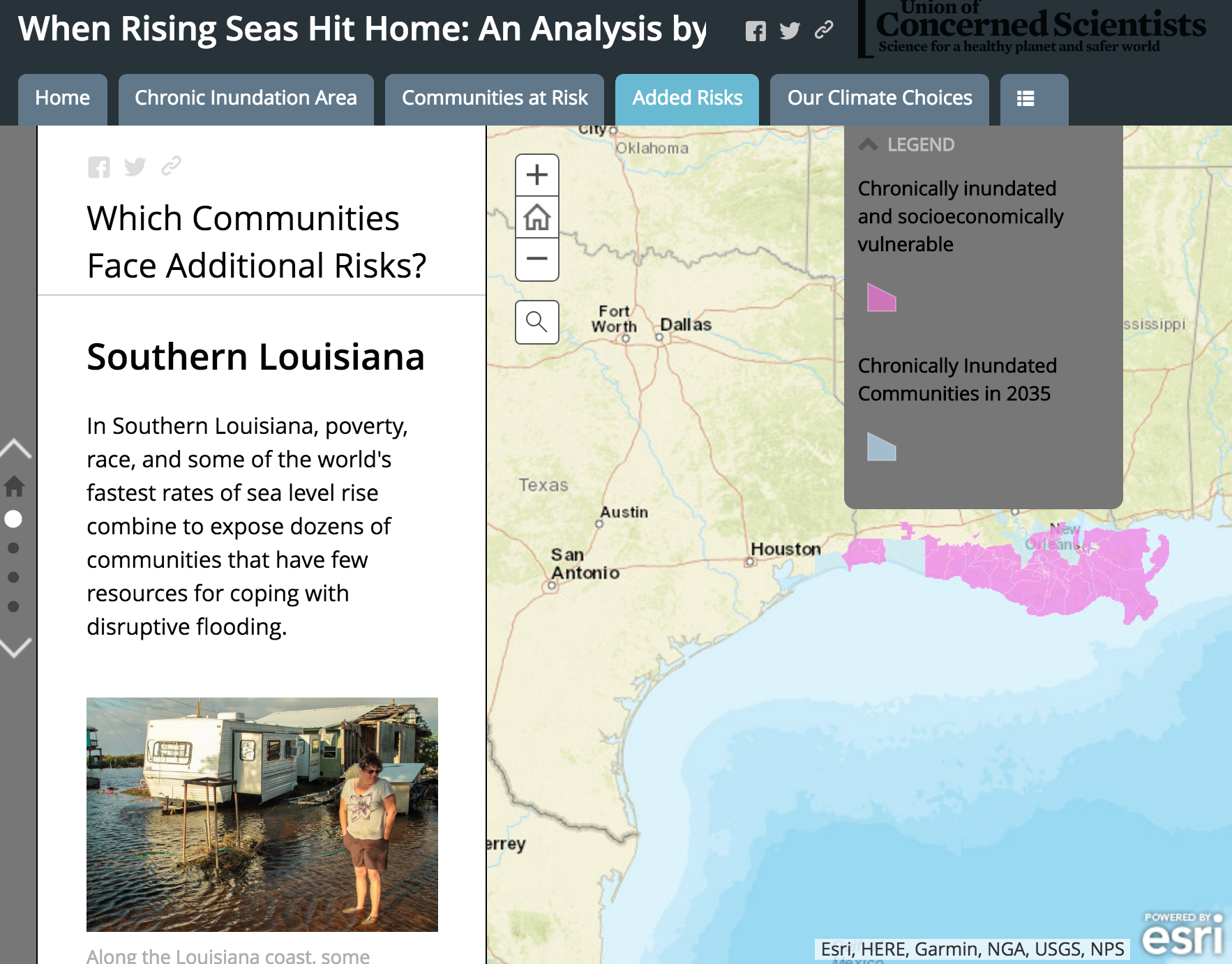 Publication Date: July 12, 2017
Related Organizations:
Sectors:
Resource Category:
Resource Types:
Impacts: