BCDC Adapting to Rising Tides Program
The San Francisco Bay Conservation and Development Commission (BCDC) Adapting to Rising Tides (ART) program is focused on helping shoreline communities in the San Francisco Bay area, spanning 10 California counties, to plan for sea-level rise and other climate impacts. Since 2010, the ART Program leads and supports multi-sector, cross-jurisdictional projects that build local and regional capacity in the SF Bay Area to plan for and implement adaptation responses. ART evaluates potential shoreline impacts, vulnerabilities, and risks; identifies effective adaptation strategies that will lead to stronger, more resilient shoreline communities; and develops adaptation planning tools and resources that are useful to communities throughout the Bay Area.
These efforts have enabled the ART Program to test and refine adaptation planning methods (the "ART Approach") to integrate sustainability, collective decision-making, and foster robust collaborations. Each stage of the ART Approach planning process – project scoping; assessing impacts, vulnerabilities and consequences; defining issues; planning adaptation responses; and implementing responses – informs later stages and builds a clear and transparent case for taking action. To help local governments use this approach, the ART Portfolio website provides planning guidance, tools, data and findings from past ART projects, and in-person Help Desk support from the ART Program staff.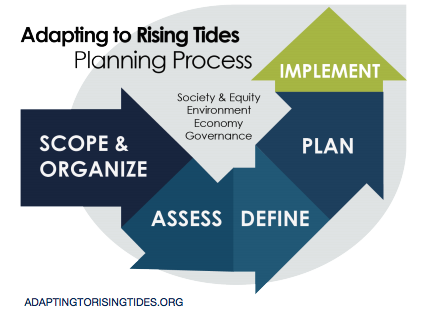 The key features of an ART-based planning process are that it:
Integrates all aspects of sustainability (society and equity, the environment, economy and governance) into each step of the process
Convenes and engages a working group of staff from agencies and organizations in the project area to build local capacity and ensure the results will be actionable and resonate locally
Uses assessment questions developed by the ART team that are designed for an effective and efficient evaluation of existing conditions, vulnerability and consequences
Uses vulnerability and consequence classifications to organize and communicate assessment outcomes in clear terms that are more useful to current and future stakeholders than ranking, scoring or numerically prioritizing issues
Develops adaptation responses that directly connect actions and implementation options to key planning issues
| | |
| --- | --- |
| | Designed to inform the ART program, this white paper describes how to integrate social equity into adaptation planning for sea level rise and storm events. |
ART is a partnership of BCDC and the National Oceanic and Atmospheric Administration Coastal Services Center (NOAA CSC). 
Publication Date: 2010
Related Organizations:
Related Resources:
Sectors:
Resource Category:
Resource Types:
Best practice
Planning guides
States Affected:
Impacts: