Climate Adaptation: The State of Practice in U.S. Communities
Looking at 17 communities engaged in adaptation, this report examines what communities are doing to address climate risks. It finds that communities are often motivated by extreme climate event and are more focused on reducing their current vulnerabilities to extreme events, compared to addressing future climate impacts. Despite this, there is encouraging evidence that communities can begin addressing climate change risks and overcome barriers to action and implementation.  The 17 case studies provide insights into the key components of a well-adapted community. 

Understand the state of adaptation, as of 2016, across the United States, and learn best practices for local-level adaptation planning.  
The report analyzes efforts currently underway, the motivations for action, and how communities have moved beyond planning to action. Research for the report included an extensive review of technical and professional literature and interviews with 50 leaders in fields relevant to community-based adaptation.
For each of the 17 case studies, the report assesses what motivated climate action, the actions they are taking, the strategies they are using to implement adaptation action, and their achievements. The 17 case studies include:
1) Avalon, NJ's comprehensive shoreline protection strategy,
2) Baltimore, MD's effort to integrate climate change into their all-hazard mitigation plan;
3) Boston, MA's climate change preparedness checklists used for permitting new development;
4) Chula Vista, CA's cool roof ordinance and shade tree policy;
5) Cleveland, OH's neighborhood climate action toolkit and climate action fund;
6) El Paso, TX's desalination facility;
7) Flagstaff, AZ's watershed protection project;
8) Fort Collins, CO's water demand management policy;
9) Grand Rapids, MI vital street and sidewalk spending guidelines;
10) Miami-Dade, FL's effort to mainstream adaption into comprehensive planning;
11) Mobile, AL's oyster reef restoration;
12) Norfolk, VA's coastal resilience strategy;
13) Oakland, CA's climate action coalition;
14) Seattle, WA integration of climate considerations into Seattle Public Utilities' internal planning and operations;
15) Southwest Crown, MT's forest restoration;
16) Spartanburg, SC's effort to mainstream climate into operations of Spartanburg Water; and
17) Tulsa, OK's acquisition of repeatedly flooded properties and relocation efforts.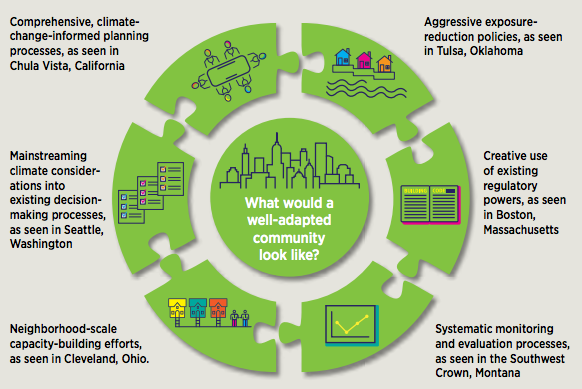 This resource was featured in the December 16, 2016, ASAP Newsletter.
"This report, produced in partnership by The Kresge Foundation and Abt Associates, tells the stories of 17 communities taking action on climate adaptation. Presenters Jason Vogel, Abt Associates; Cory Downs, City of Chula Vista; Graham Branning, Metropolitan Environmental Trust; and Matt Millar, City of Flagstaff, shared conclusions, tactical recommendations, and lessons learned."
Based on the 17 communities the report makes a series of recommendations, including that communities, should:
Look for co-benefits and link climate adaptation to other salient community issues
Takes steps to mainstream adaptation into existing policy tools such as permits, bonds, utility fees, and hazard mitigation planning
Take advantage of windows of opportunity, including during the recovery period following natural disasters and scheduled updates to plans
Address uncertainty by building flexibility into policies and projects
Focus on the needs of the poorest, and individuals facing disenfranchisement and racism
Use natural systems as a tool for supporting adaptation
Build community support through outreach and engagement
Accept that adaptation involves experimentation and adjustments over time
Support leadership from mayors, city councils, grass root activists, municipal staff, among others
Find opportunities to form partnerships
The case studies describe how, in some communities, issues of environmental justice and social equity played a significant role, while in others it did not drive the process. For example, the report finds that in Baltimore, MD; Cleveland, OH; and Oakland, CA more-vulnerable people were involved in the planning process and played a role in selecting adaptation actions. In Flagstaff, AZ, more-vulnerable populations were considered, but they did not alter the adaptation actions implemented. In other communities, more-vulnerable people were not considered at all.

The report recommends that social equity should be a core value in adaptation planning and implementation.

This report was written by Abt Associates with funding from the Kresge Foundation.
Publication Date: November 16, 2016
Authors or Affiliated Users:
Jason M. Vogel
Karen Carney
Charles Herrick
Megan O'Grady
Alexis St. Juliana
Heather Hosterman
Lorine Giangola
Related Organizations:
Sectors:
Resource Category:
Resource Types:
States Affected:
Impacts:
User Comments: