Climate Ready Boston - Climate Change Sea Level Rise Projections for Boston
The City of Boston commissioned the Climate Ready Boston report to create a baseline understanding of how Boston will be influenced by climate change that can be used for comprehensive planning and  generating solutions for resilient infrastructure in the short and long-term. The report uses various emissions scenarios to create an array of projections for how climate change will affect Boston throughout the century.
| | |
| --- | --- |
| | This report provides climate change projections which informed a more thorough adaptation plan released in December 2016. The 2016 Climate Ready Boston Final Report is available here.  |
While Boston had produced a number of climate change assessments and strategies between 2012 and 2015 (an overview of the October 2013 report can be found here), all of these were site or sector specific, and relied on a diverse set of climate projections and analysis. This report aims to create consensus around the climate science, by developing a detailed citywide assessment of climate risk. Boston convened the Boston Research Advisory Group (BRAG), housed within UMass Boston, to produce this assessment, and to update it every two years.
The assessment includes an orientation to climate change science, describing current understanding of emissions scenarios and their application within climate change projects. There are four main risk factors considered in the report and detailed climate analysis is described for each:
Sea-level rise

Coastal storms

Extreme precipitation

Extreme temperatures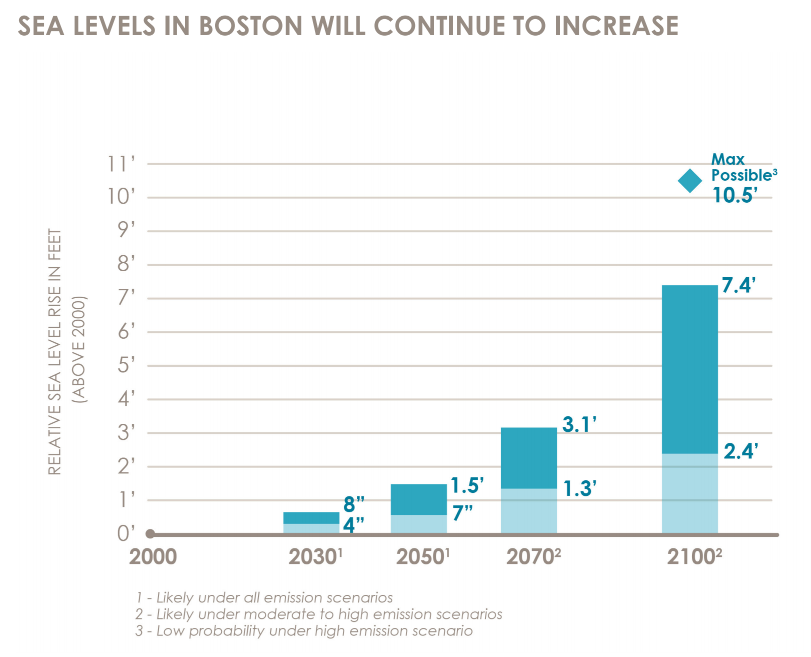 The assessment finds that relative sea-level rise (RSLR) is predicted to increase in the Boston area, even if emissions were reduced dramatically. In fact, Boston is expected to see higher RSLR compared to other regions due to ocean dynamics and the gravitation effect of melting ice sheets. The assessment also warns that Boston should plan for sea-level rise beyond 2100, since infrastructure often lasts for more than a century.  Additionally, the assessment notes the increased frequency of salt-marsh flooding events and increased erosion will put the city at greater risk of inundation.
Change in tropical storm frequency is uncertain, but storm intensity and coastal flooding frequency in Boston is expected to increase due to sea level rise and erosion. The report recommends that the city continue to monitor tropical storms and take action in the near term to address coastal flooding.
Short-term extreme participation, as well as inland flooding, is expected to increase. Later in the century, the effects of climate change are comparable to the internal variability of these events. Annual snowfall and heavy snowfall are both expected to decrease, though not necessarily by the same magnitudes.
B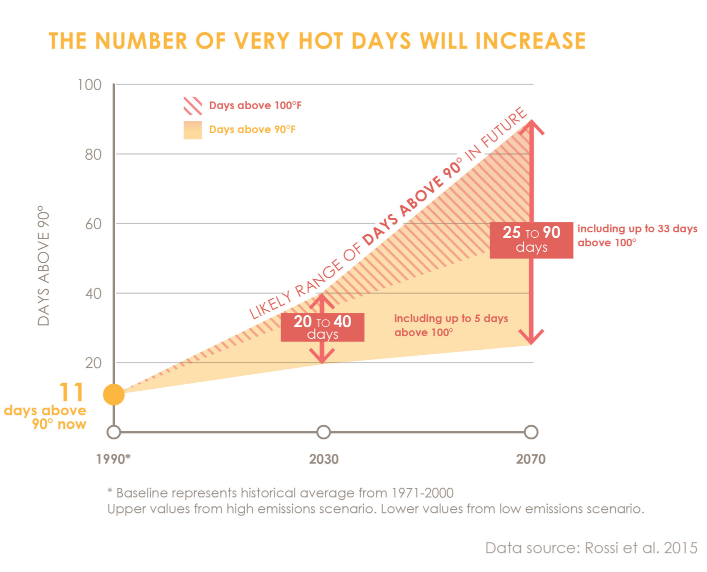 oston is expected to see warmer winters and summers. Historically colder cities like Boston are especially affected by temperature rise, since they do not have infrastructure designed to respond to heat.  As an urban area, temperature increases are likely to be higher than surrounding areas because of the urban heat island effects. Without adaptation measures, the assessment finds that Boston's heat-induced mortality rate could triple by 2050.
Though cold waves and heavy snowfall frequency are both expected to decrease over time, they remain possibilities and the report encourages continued regional preparedness for such events.
Along with this report, Boston also released a simplified summary, including a number of more accessible charts aimed toward a general audience. The charts shown in this write-up are from the simplified summary.  
Publication Date: June 1, 2016
Related Organizations:
City of Boston, Massachusetts
Related Resources:
Sectors:
Resource Category:
Resource Types:
States Affected:
Impacts:
Air temperature
Precipitation changes