Harlem Heat Project, New York City
The Harlem Heat Project is a community-based initiative that began in New York City in the summer of 2016. It combines crowd-sourcing, data reporting, and narrative journalism to tell the story or urban heat islands in New York City. Non-profit journalism and community-based organizations came together to provide low-cost heat sensors to homeowners in "heat-vulnerable" areas of Harlem in New York City. The data was used to tell the story of disproportionate risks to extreme heat for lower-income and communities of color as a result of increasing temperatures from climate change. The project's partners include local news stations, WNYC and WHCR, as well as community organizations, such as AdaptNY, WE ACT for Environmental Justice, and iSeeChange. 



Learn how crowd-sourced data and storytelling can be part of a climate resilience strategy and community engagement effort. 
The objective of the pilot phase of the project was to investigate and report on how summer heat affects the health of Harlem residents and explore ways to build community resilience.1  The project team did this by placing heat-and-humidity sensors in 30 homes. The small sensors capture changes in indoor air conditions, which are otherwise difficult to access and measure. Citizen scientist "ambassadors" then visited the "hosts" periodically, gathered anecdotal information, retrieved data from the sensors, and inputted it into the iSeeChange mobile app and platform. iSee is an online community-based climate and weather journal, which also collaborates with NASA to share and compare results to external satellite data to get a broader picture of the urban heat island effect. The news stations share real-time data online and report on the results of the project. New York City is an urban heat island, which is magnified in certain pockets of the city where there is a high concentration of concrete and little vegetation. Harlem is one of the more "heat vulnerable" neighborhoods with at-risk populations and low-income housing where twice as many people visit the emergency room each year for heat stress as compared to the rest of the city. City authorities acknowledged that they do not have adequate data to understand how people are coping with the heat in different neighborhoods. To fill this gap, non-profit journalism and community organizations came together to collect that data through the unique Harlem Heat Project.2 
The program was made possible by the development of a lost-cost sensor technology (total about $50) that could be provided to residents throughout Harlem. According to project staff, the next-generation sensor will be able to wirelessly send data through a cellular network to a central data warehouse. This would allow for real-time updates and responses if indoor heat rises to a dangerous level for a vulnerable citizen – such as an elderly or ill person.
Preliminary findings from the project indicate that even if temperatures fluctuate outside, the average temperature inside buildings can end up being the same all day long, which means that people without air-conditioning do not get a break from the heat. Furthermore, two of the sensors that have come back with the hottest temperatures were actually from the public housing tenements in Harlem. The next step for the project is for the partners to get together with community members to discuss these and other findings and determine what can be done to mitigate heat illness in Harlem.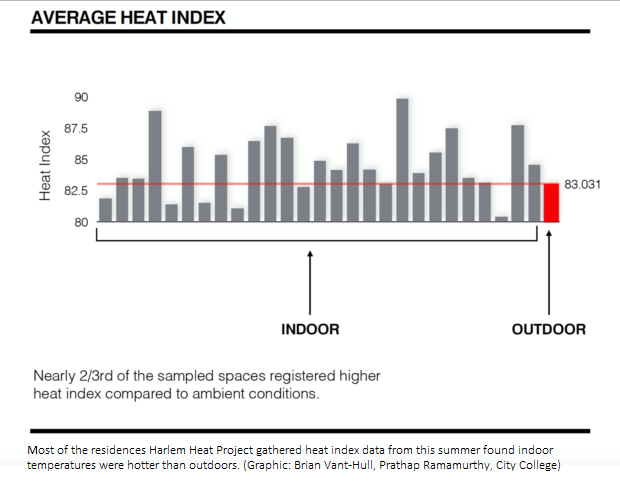 The project is also unique because it involves a partnership with local news stations, WNYC and WHCR, which help to communicate the results of the monitoring efforts and the impacts and solutions for addressing urban heat islands.  Newscasts about this project can be found on the WNYC website: http://www.wnyc.org/series/harlem-heat-project. 
A heat-sensor project like this one has the potential for targeted data collection and community outreach and engagement to ensure that mitigation strategies are implemented in an equitable way. While the Harlem example involved non-governmental actors, it certainly does not have to be replicated in this exact way. It could also be government-led or an opportunity for the city to partner with local organizations and citizens.
Publication Date: 2016
Related Organizations:
Related Toolkits:
Sectors:
Resource Category:
Resource Types:
Case study
Communication
Monitoring
States Affected:
Impacts:
Endnotes
1. WE ACT for Environmental Justice, Harlem Heat Project, available at http://www.weact.org/harlemheat (viewed on October 11, 2016).
2. Sowmiya Ashok, The Wire, How a $50 Homemade Sensor Could Change the Way We Fight Urban Heat, available at http://thewire.in/68451/harlem-urban-heat-islands/ (September 25, 2016).
User Comments:
March 15, 2017
Aurash Khawarzad, Director of Policy and Strategy at Center for Social Inclusion

Excellent example of academic institutions partnering with local advocacy organizations to do community based research and communications.