New York City Flood Resilience Zoning Amendment
In October 2013, New York City adopted zoning amendments to encourage flood-resilient construction of buildings in designated flood zones.  The amendments were put in place to remove regulatory barriers that hindered reconstruction of storm-damaged structures after Hurricane Sandy and to allow reconstructed buildings to comply with higher flood elevations issued by the Federal Emergency Management Agency (FEMA) after the storm. The amendments were designed to ensure that new development and redevelopment would be less at-risk to damages from future flood events and to avoid increased flood insurance premiums.  
After Hurricane Sandy, FEMA released new floodplain maps that showed higher flood elevations for the 100-year base flood (or 1 percent annual chance flood event).  Roughly twice as many structures in the city were included in designated flood zones on the new floodplain maps.  In January 2013, the city updated its building code to require one or two feet of freeboard called the "Flood Resistant Construction Elevation" or FRCE: single and two-family homes were required to be elevated two-feet above the 100-year base flood height, and all other buildings were required to be elevated or flood-proofed to 1-foot above the base flood elevation.  Owners of severely damaged or destroyed structures must comply with these new Building Code requirements when rebuilding.  However, in some instances compliance caused conflict with the city's zoning ordinance including height and setback limitations.  As a result, the city adopted these zoning amendments to allow property owners to rebuild to ensure compliance with the city's Building Code and FEMA requirements.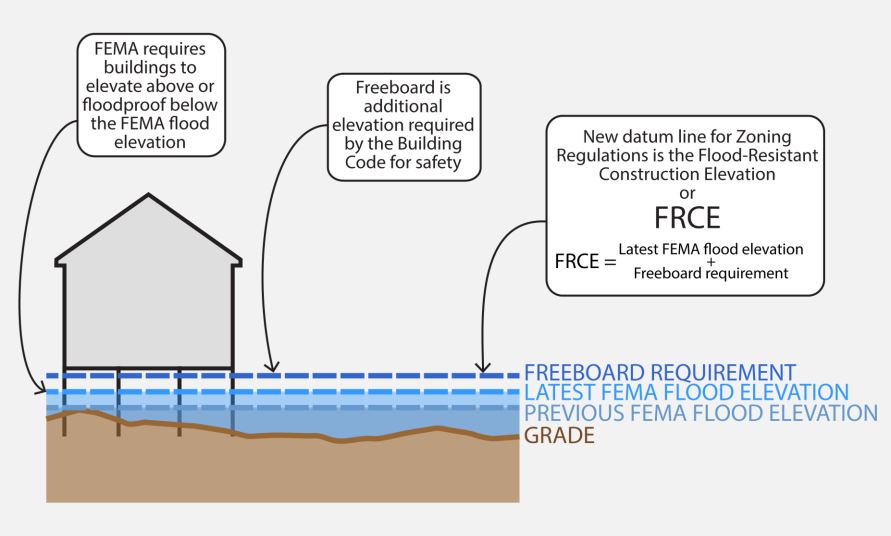 The zoning amendments facilitate flood-resilient construction in the following ways:
Building height is measured from the FRCE and not grade. This allows the structure to be rebuilt to its pre-damage size but also elevated above what would have been previously allowed under height restrictions.
To provide for outdoor stairs to access elevated structures, the zoning amendments allow for encroachments into the backyard.
To provide for indoor stairs to access elevated living space, the zoning amendments exempt enclosed entryways from floor area calculations.
Deployable flood walls to provide flood protection to commercial structures are permitted in yards, courts and other open areas as permitted obstructions. 
Lifts in yards and open areas are permitted obstructions to provide access to persons with disabilities.
Mechanical systems can be removed from below-grade spaces and are permitted obstructions in rear or side yards or on rooftops.
Where compliance with flood-resistant standards results in the loss of parking spaces, the zoning amendments allow for waiver of requirements to provide parking spaces, or conversion of front or side yards to parking.
Where compliance with the flood-resistant standards results in loss of usable ground floor space, the zoning amendments allow for flood-proofing of ground floor space and conversion to parking, commercial, or community space.
Where habitable space must be elevated to comply with the FRCE, the zoning amendments allow for parking facilities like garages to remain at grade.
Yards in some districts can be raised and graded to provide flood protection.
The zoning amendments provide for different streetscape enhancements (like porches, plantings, and raised yards) to soften the visual transition of elevated homes.
Additional elevation can be allowed for homes that must be raised between 6-8 feet to accommodate parking and storage below the building.
Waterfront yards can be sloped at a 3 percent grade to soften the effect of structural elevation.
Publication Date: October 9, 2013
Related Organizations:
New York City Department of City Planning
Sectors:
Resource Category:
Resource Types:
States Affected:
Impacts: