New York Model Local Laws to Increase Resilience (Chapter 2: Wetland and Watercourse Protection Measures)
In June 2019, the New York Department of State completed a set of model local laws to increase resilience as part of its required actions under the State's Community Risk and Resiliency Act (CCRA). The model laws are meant to inform municipalities who want to adapt their own resiliency measures. Five categories of model laws are included in the model, which is divided into five corresponding chapters. The second chapter addresses wetlands and watercourse protection measures including buffers, overlay districts, and watercourse setbacks. 
Gradual replacement of natural areas with infrastructure and development, construction inside floodplains, and changing weather patterns all threaten to erode wetlands and watercourses. However, protecting wetlands and watercourses insulates against flooding. The chapter opens with a recommendation toward issuing findings of fact alongside protective measures, to inform the public of the municipality's rationale for protective regulations or measures. It then addresses the various layers of regulation that affect wetlands. 
Wetlands protections and overlay district
Wetlands may be regulated at the local, state, and federal levels. Some wetlands are regulated under multiple schemes. The relationship between wetlands regulation, the municipality, and the state will vary by situation. Development that affects wetlands and watercourses may require a permit from the U.S. Army Corps of Engineers. Municipalities in New York with home rule authority can supplement such state and/or federal regulation based on the municipalities' needs (municipalities outside New York state must consult their own state's home rule laws). The model recommends that local wetlands laws meet or exceed the stringency of state and federal regulations to fill gaps left by those laws, such as regulating small wetlands that are untouched by state and federal rules.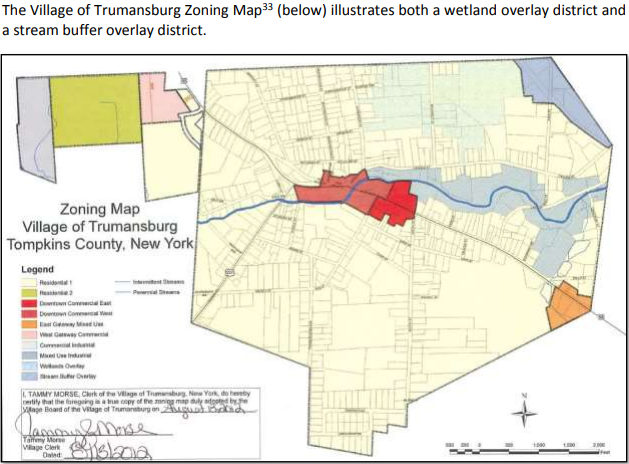 Wetlands promote resilience by (for example) absorbing storm surge and filtering pollution. Establishing vegetative buffers and/or development setbacks around wetlands, with boundaries set using scientific data, can protect them for these and other purposes. A setback is a distance from the wetland in which no development is permitted, which allows the wetland to wander naturally where applicable. A vegetative buffer between the wetland and the built environment protects the wetland from pollution and disturbance from development, and protects development from storm surge and flooding. A wetlands overlay district (or a watercourse overlay district) can apply wetlands protections like these without enacting new laws that affect the entire municipality. Supplemental zoning standards can also be used to add buffers or setbacks to wetlands or to require permitting for activities that affect the wetland. Model language for provisions like these is provided.
Watercourses protections and overlay district
Watercourses, which are water runoff pathways like streams and rivers, are necessary drainage features that tend to flood after heavy precipitation. This phenomenon is exacerbated by constructions that are impervious to water absorption like driveways. Land use changes that increase loads of runoff or sediment, or those which reduce drainage and absorption, can cause extensive erosion and flood risks. Small upstream courses can be protected to help reduce pressures on downstream watercourses,  and are themselves more vulnerable to shifts. 
As with wetlands, buffers and setbacks can prevent erosion and reduce flooding risks from storm runoff. The optimal specifications of setbacks and buffers are context-dependent. The chapter outlines models of minimum buffer widths for various purposes, and addresses implementation methods. The simplest is the fixed-width buffer, in which the municipality standardizes a buffer width or widths of categories of buffer. Variable width approaches use a scientific analysis to tailor the buffer to the site, but are more intensive. Municipalities may also employ a flexible width buffer standard, which sets a width and allows it to be modified based on certain features of the site.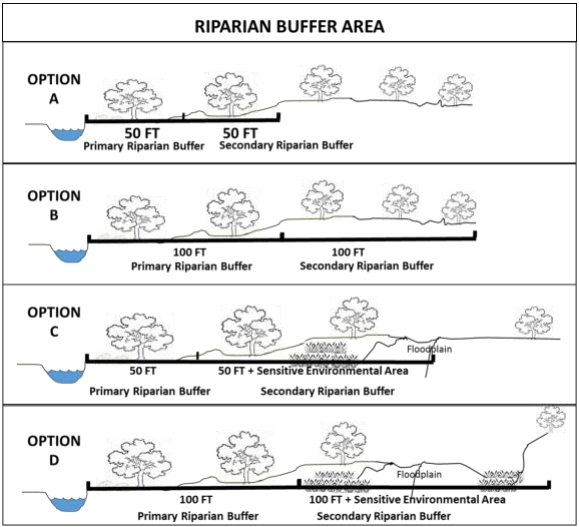 The last option is a streamway setback, in which a calculated distance adjacent to each side of the stream is left untouched for the watercourse to adapt and wander naturally. Watercourse setbacks such as these can be implemented through simple zoning requirements. Model stream-related zoning standards are included, as well as a watercourse overlay district model to complement the wetlands district overlay model. 
The published model does not establish any legally binding standards, and should not be a substitute for a local government's consultation with an attorney. 
Publication Date: June 2019
Related Organizations:
New York Department of State - Office of Planning and Development
Related Resources:
Sectors:
Land management and conservation
Resource Category:
Resource Types:
Best practice
Laws
Policy analysis/recommendations
States Affected:
Impacts: