New York Model Local Laws to Increase Resilience (Chapter 4: Management of Floodplain Development)
In June 2019, the New York Department of State published model local laws to increase resilience as part of its required actions under the State's Community Risk and Resiliency Act (CCRA). The model laws are divided into chapters addressing land use and zoning, wetlands and watercourses, coastline protection, floodplain management, and stormwater control. The fourth chapter addresses floodplain development management, including overlay districts and critical facilities protection, and includes model language local governments can adapt to that purpose. 
Floodplain Management Overview and Limiting Floodplain Development 
In addition to meeting National Flood Insurance Program requirements, the chapter recommends that municipalities consider the "No Adverse Impact" (NAV) standard developed by the Association of State Floodplain Managers. Under this principle, a municipality ensures that actions taken in its floodplains either do not lead to adverse impacts on other property, or if they do, mitigate any adverse impacts. Municipalities can implement this principle by defining an "adverse impact," evaluating the baseline environmental conditions and existing hazards for the floodplain and surrounding areas, and reducing or eliminating existing adverse impacts. The rest of the chapter outlines model definitions and measures.

Floodplain Overlay and Floodplain and Wetland Resource Conservation Overlay Districts
Alteration of floodplains can diminish their ability to absorb floodwaters. Climate change will increase the intensity of precipitation events, burdening the ground's ability to absorb stormwater. The model thus includes language to limit development in 500-year and 100-year floodplains using a floodplain overlay district. The model then outlines a Floodplain and Wetland Resource Conservation Overlay District, which includes conservation areas both inside and outside the floodplain. These zoning models leave a buffer between development and the 100-year flood zone.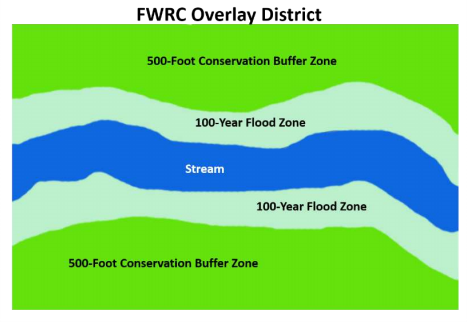 Flood Damage Prevention Laws 
The National Flood Insurance Program (NFIP) requires municipalities to have flood damage prevention laws to participate in the program. While laws that satisfy the requirements of the NFIP offer significant protection to structures, municipalities may wish to tailor laws to specific concerns. New York's Department of Environmental Conservation (NYSDEC) provides model NFIP laws, and this chapter of the Model Resiliency Laws includes model language that municipalities can insert into those or their own model NFIP complaint laws. 
The NFIP uses a Community Rating System (CRS) to evaluate communities and reward those who implement measures to prevent flooding. Such provisions can result in lower insurance premiums through NFIP based on their benefit to flood damage prevention. Optional actions municipalities may consider include establishing a local design elevation standard higher than the baseline, requiring dry land access to principal structures, and excluding critical facilities from 100- and 500-year floodplains.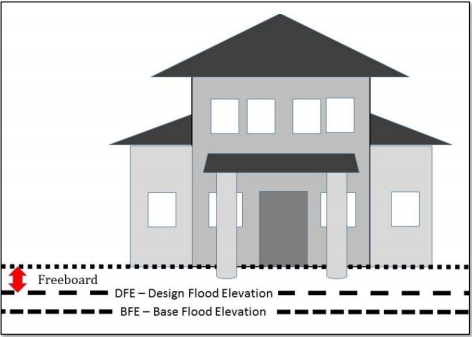 A municipality could also require compensatory water storage: where a structure or fill occupies space below base elevation in a floodplain, the municipality can require the lost water storage space to be compensated with an excavation elsewhere. The municipality may also require aggregation of several improvements made over time on a structure so that they qualify as a 'substantial improvement' for NFIP purposes, which is significant for CRS. 
Granting additional support to the proofing or relocation of structures that have been repetitively flood-damaged and applying flood protection standards to areas behind or below levees do not increase CRS points, but nonetheless protect structures from flooding damages. County agencies can assist municipalities in administering permit programs and other flood risk management activities. In addition to models and guidance for the NFIP-friendly measures described above, the chapter concludes with three model local flood damage prevention laws designed by the NYSDEC. 
The published model does not establish any legally binding standards, and should not be a substitute for a local government's consultation with an attorney.
Publication Date: June 2019
Related Organizations:
New York Department of State - Office of Planning and Development
Related Resources:
Sectors:
Resource Category:
Resource Types:
Best practice
Laws
Policy analysis/recommendations
States Affected:
Impacts: