North Carolina 2020 Climate Risk Assessment and Resilience Plan
The North Carolina Climate Risk Assessment and Resilience Plan is the state's first climate change adaptation plan. It includes the results of vulnerability assessments within 11 critical sectors, climate justice concerns and strategies, and recommendations for nature-based solutions to enhance ecosystem resiliency and sequester carbon in the state's natural and working lands. North Carolina Governor Cooper's 2018 Executive Order 80 directed state agencies to integrate climate adaptation and resiliency planning into their policies, programs, and operations; and mandated that the Department of Environmental Quality (DEQ) lead the development of this climate risk assessment and resiliency plan for the state. DEQ puts forth these climate resilience actions as a framework to guide state action, engage policy-makers and stakeholders, and facilitate collaboration across the state.
This 2020 Resilience Plan establishes the North Carolina Resilience Strategy, which is a compilation of documents organized into four elements (the first three of which are summarized in this report):
The North Carolina Climate Science Report (Ch.3)

State Agency Resilience Strategies

Statewide Vulnerability Assessment and Resilience Strategies (Ch.5)

State of North Carolina Enhanced Hazard Mitigation (EHMP).
The North Carolina Climate Science Report is a scientific assessment of observed and projected climate change impacts, and findings are presented for both the state as a whole and for each of three regions in the state: the Coastal Plain, the Piedmont, and the Western Mountains. The report also includes chapters on sea level rise, trends involving interactions of multiple aspects of the climate system (including inland flooding, wildfire, forest ecosystem changes, urban heat island effects, and air pollution), and findings relevant to engineering design standards. The projected changes with the highest level of scientific confidence include increases in temperature, summer absolute humidity, sea level, and extreme precipitation. It is also likely (est. at above 66% probability) that there will be increases in the intensity of the strongest hurricanes. North Carolina recently faced two "500-year" hurricanes in less than 2 years (Hurricane Matthew in 2016, Florence in 2018), leading to billions of dollars in damages.
Vulnerability, Risk, and Resilience Strategies for Addressing Climate-Related Hazards are detailed in Chapter 5 for primary sectors of:
Agriculture and Forestry

Coastal Resources and Infrastructure

Commerce and Business

Cultural Resources

Ecosystems

Health and Human Services

Housing

Buildings and Support Services

Public Safety

Transportation

Water and Land Resources

Energy
Each sector is allocated its own sub-chapter with comprehensive review of climate impacts and vulnerabilities, related regulations and policies, as well as resilience strategies for particular state agencies, jurisdictions, assets or primary impacts. For example, the Coastal Resources section looks at exposures, impacts and strategies for the Division of Coastal Management, Coastal Reserve and National Estuarine Research Reserve, Division of Marine Fisheries, and the Albemarle-Pamlico National Estuary Partnership. The Water and Land Resources section alternatively is organized by primary impacts: Dam Failure - Flooding and Heavy Precipitation; Water Quality - Flooding and Heavy Precipitation; Water Availability - Drought, Heat, and Precipitation; Public Water Supply and Irrigation Water in Coastal Regions - Sea Level Rise; Stormwater and Water Quality - Flooding; Landslides; Mining - Flooding; Stream and Wetland Mitigation - Flooding; and Sedimentation and Erosion Control - Heavy Precipitation.
Chapter 4: Climate and Environmental Justice: Equity, Risk, and Resilience in North Carolina defines climate justice and integrated inequalities across the state, identifying compounding drivers of unequal vulnerability such as income, age, disability, and location within the state that also underlie inequities. As a foundation to the assessment of vulnerable populations, the climate justice team used DEQ's environmental justice mapping protocol which identifies Census block groups as potentially underserved if their populations are disproportionately non-white and disproportionately experiencing poverty. After mapping "Potentially Underserved Populations" in North Carolina, they overlaid projected climate impact maps to identify these populations' exposure to the impacts most relevant by region. This includes vulnerable populations and wildfire, inland flooding, extreme heat, storm surge and landslides. For example see Figure 4-6: Potentially Underserved Populations in Storm Surge Areas: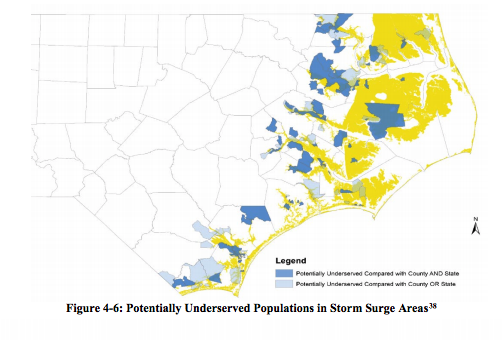 The Climate Justice Spotlight Issues section examines "issues which have drawn significant concern in North Carolina," including: energy cost burden and higher heat; workers, small businesses, and family businesses in vulnerable industries; African American property ownership; and insurance inequalities.
To address social equity, Climate Justice Recommendations are provided specifically for each of six NC State Agencies including: the Interagency Climate Council, Emergency Management, Office of Recovery and Resiliency, Dept. of Commerce, DEQ, Dept. of Health and Human Services, as well as a few for all agencies.  Additionally, there are recommended Climate Justice State Policy Changes including, for example, to:

Adopt the targeted universalism approach for resilience, in which policies and programs begin by addressing the needs of those who are most vulnerable to climate change…

Develop metrics to determine progress of equity and resilience initiatives.

Adopt incentive or funding programs that encourage best practices for equitable resilience

Work with agency Human Resource offices to set goals and strategies for diversifying staff and leadership in recovery and resilience, and for hiring disaster survivors into recovery and resilience positions.

With agency communications offices, set goals and strategies to increase interaction with communities that have historically frayed relationships with government

Reduce substandard housing and increase access to adequate cooling and other climate risk reduction measures.

The plan also puts forth Climate Justice Research Recommendations for more climate risk mapping, developing indicators of compounding variables, to learn more about current community resilience, and more.

The Natural and Working Lands stakeholders developed 25 nature-based solutions (NBS) to build resilience in communities and ecosystems and sequester carbon - while also meeting other economic, ecologic and societal goals that are detailed in Appendix B: North Carolina Natural and Working Lands (NWL) Action Plan. These recommendations focus on protecting, restoring and enhancing Forest Lands, Floodplains and Wetlands, Pocosins (peatlands), Coastal Habitats, Urban Lands and Agriculture. See Chapter 6: Nature Based Solutions for an extensive review of green solutions and climate strategies for each of these ecosystem types. Some of the Key Observations or broad recommendations are for the state to:
act quickly to protect, restore, and manage sufficient land area as "green-infrastructure" to provide community and ecosystem resilience

build resilience using the NBS presented in the North Carolina NWL Action Plan

support voluntary landowner participation in carbon offset markets
The 2020 plan concludes by describing next steps for implementing and updating the North Carolina Resilience Plan as well as strategic cross-cutting resilience initiatives. Despite over 350 pages on climate change impacts, vulnerabilities, and recommended strategies, the report suggests that "there is cause for optimism. North Carolina has the resources - in our government, economy, and communities - to rise to this challenge. We will build a resilient North Carolina, where our communities, economies, and ecosystems are better able to rebound, adapt, and thrive amid changing conditions and challenges, including natural hazards and climate change." Chapter 7: The Path Forward for a Climate Resilient North Carolina provides goals and strategies for the following Guiding Principles for decision makers:
Act quickly and decisively to reduce the most harmful impacts of climate change - flooding, drought, landslides, and wildfires

Act thoughtfully and collaboratively to develop equitable solutions for the most socially challenging effects of climate change

Invest in safe, affordable, and connected communities

Strengthen regional economies

Support healthy communities, local identity, and recreational access to nature

Implement resilience best practices
Publication Date: June 2, 2020
Related Organizations:
Related Resources:
Sectors:
Cultural resources
Fish and fisheries
Forestry
Land management and conservation
Wildlife
Resource Category:
Resource Types:
Adaptation plan
Policy analysis/recommendations
States Affected:
Impacts:
Air temperature
Precipitation changes
Water temperatures
Wildfires