Pacific Gas and Electric Company Climate Change Vulnerability Assessment and Resilience Strategies
The Pacific Gas and Electric Company (PG&E)'s Climate Change Vulnerability Assessment and Resilience Strategies report describes the utility provider's risk exposure to climatic hazards, as well as progress the company has made and the plans it has to address climate change impacts across California. As described in the report, "PG&E is one of the largest combined natural gas and electric companies in the U.S. Based in San Francisco, with more than 23,000 employees, the company delivers some of the nation's cleanest energy to nearly 16 million people throughout a 70,000-square-mile service area in Northern and Central California. PG&E serves 5.3 million electric and 4.4 million natural gas distribution customers."
PG&E's holistic approach to the development of a multi-year climate resilience plan recognizes direct impacts of climate change across its value chain, from upstream critical systems, to PG&E's core assets, to downstream customers and communities. Their approach to building climate resilience has both near- and long-term strategies focusing on: near-term planning for emergency preparedness and response; staying up-to-date with the latest climate change science; incorporating a comprehensive risk assessment into an integrated operational planning process; and collaborating with stakeholders at the federal, state, regional, and local levels on climate change adaptation projects.
PG&E has identified the primary climate change hazards to its business as: flooding from storm events, sea level rise, land subsidence, heat waves, drought, and wildfire - and assessed the risk of these impacts on its electric and natural gas systems.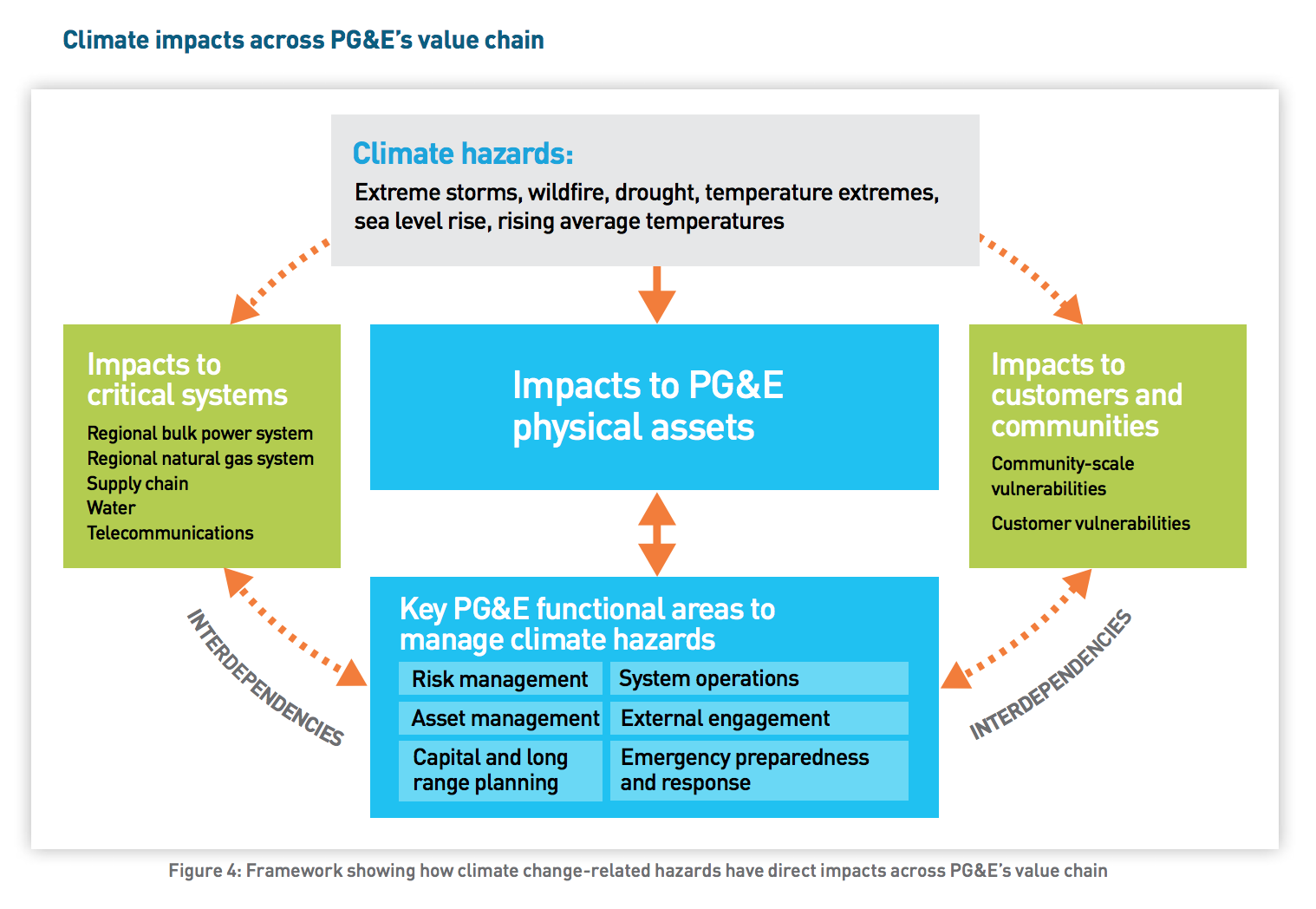 The report provides specific "Resilience Measures" PG&E has taken, and plans to take, to address these risks. Examples of these resilience measures include:
Elevate and reinforce substations and other critical equipment, where necessary, using FEMA flood zone maps.

Support local "cooling centers" to provide safe, comfortable location for those who need it during heat events.

Maintain an internal, cross-departmental Drought Task Force, which works to identify and address impacts on PG&E's operations, customers and communities.

Assess wildfire risk through weather forecast model data and communicate risks to guide operational fire prevention activities and readiness for response.
Additionally, PG&E has committed to supporting climate resilience in the communities it serves through support such as through the Better Together Resilient Communities Grant Program, which will invest $1 million over five years ($200,000 annually) to support local planning efforts to build greater climate resilience throughout Northern and Central California, and $2 million dollars of funding for local Fire Safe Councils to support fuel reduction and defensible space, and emergency access projects.
Publication Date: November 2016
Related Organizations:
Pacific Gas and Electric Company (PG&E)
Sectors:
Resource Category:
Resource Types:
Assessment
Policy analysis/recommendations
States Affected:
Impacts: