People and Nature Adapting to a Changing Climate: Charting Maine's Course
In this report called for by the Maine Legislature, the state puts forth options for responding to the impacts of climate change.  The plan relies on the 2009 impact assessment report entitled Maine's Climate Future: An Initial Assessment developed by the University of Maine.  The Department of Environmental Protection developed this plan through a stakeholder-based process to evaluate options and actions available to state businesses and people to prepare for "the most likely" impacts of climate change.
Key threats to the state identified in the report include: sea-level rise and risks to coastal infrastructure and ecosystems, increases in water temperature, changes in winter precipitation with more precipitation falling as rain rather than snow, increasing frequency and severity of coastal storms, increases in average temperatures, increases in pest and pathogens, and changing freshwater flows.
Initial strategies and recommendations are organized within the following categories: All Sectors, Communities and People, Environment and Natural Resources, and Economy.  These categories cover numerous sectors, such as infrastructure, transportation, land use, health, tourism, emergency management, coastal, forestry, agriculture, and water resources. The report recognizes the need for a long-term process, calling for an "actionable state-level climate adaptation plan" and additional resources to ensure the implementation of recommendations.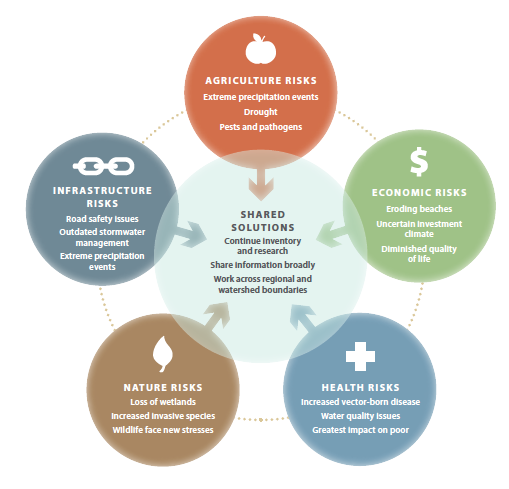 The plan notes that some communities face disproportionate risks from climate change, including the elderly, those with disabilities or health challenges, migrants, and low-income groups.  But the plan also notes that all people are vulnerable to the impacts of climate change, and that in Maine businesses may also be affected including insurance, real estate, tourism, and forest products.
Publication Date: February 2010
Related Organizations:
Maine Department of Environmental Protection
Sectors:
Forestry
Land management and conservation
Tourism and recreation
Resource Category:
Resource Types:
States Affected:
Impacts:
Air temperature
Invasive species and pests
Precipitation changes