Preparing for the Rising Tide (Boston, Massachusetts)
From The Boston Harbor Association (TBHA), this report outlines climate change impacts and vulnerabilities of the Boston coastline, and provides recommendations for preparation, resiliency, and adaptation for the public and private sector. The report includes an overview of predicted climate impacts in New England, an analysis of Boston's preparedness for climate change, an assessment of Boston's vulnerability to coastal flooding and sea-level rise, and two site-specific vulnerability assessments and adaptation strategies. A series of findings and recommendations for both the private sector and the city's government is provided, in preparation for up to two feet of sea level rise by 2050 and up to six feet by 2100.
The report was released at a press conference in February 2013, at which Boston Mayor Thomas M. Menino announced a new climate preparedness agenda for city agencies, including convening a Cabinet-level Climate Preparedness Task Force. Mayor Menino asked the Boston Green Ribbon Commission (an advisory group of business and civic leaders) to recommend actions the private sector can take to increase climate change preparedness, and identify ways the City of Boston can support those efforts.
The report emphasizes the near-miss Boston experienced with Hurricane Sandy and the elevated risk from similar events going forward. The first section provides an overview of expected climate impacts, predicting that New England will experience above average sea-level rise, higher storm surges, increased precipitation, leading to substantially increased severity and frequency of coastal flooding.
The state of climate change preparedness in Boston is described in section two, including a brief overview of the adaptation and mitigation preparedness measures put in place over the course of the 1990s and 2000s. The section also describes Boston's collaboration with state efforts like the Massachusetts Coastal Zone Management Program, regional entities like the New England Municipal Sustainability Network, and private sector and non-profit organizations like the U.S. Green Building Council.
A series of steps are illustrated that Boston could take to improve preparedness, including:
identifying elevations and specific buildings at risk for coastal flooding;
developing measures to increase vulnerable properties' resilience; and
pursuing an integrated strategy to maximize the resilience of Boston's most sensitive populations, neighborhoods and infrastructure.
Section three presents an assessment of Boston's vulnerability to coastal flooding at two different sea levels: 5 and 7.5 feet above current average high tide. The former scenario corresponds to current 100-year storm surge, which would have occurred had Hurricane Sandy hit at high tide, and the projected average high tide in 2100 with 5 feet of sea-level rise. The latter approximates a 100-year storm surge on a base of 2.5 feet of sea-level rise, which could happen as soon as 2050. The section presents data indicating the percentage city area that would be flooded under the two scenarios, with breakouts for different building categories and neighborhoods. Over 6% of the city would flood under the former scenario, and over 30% would flood under the latter. Maps showing flood patterns under each scenario are also included.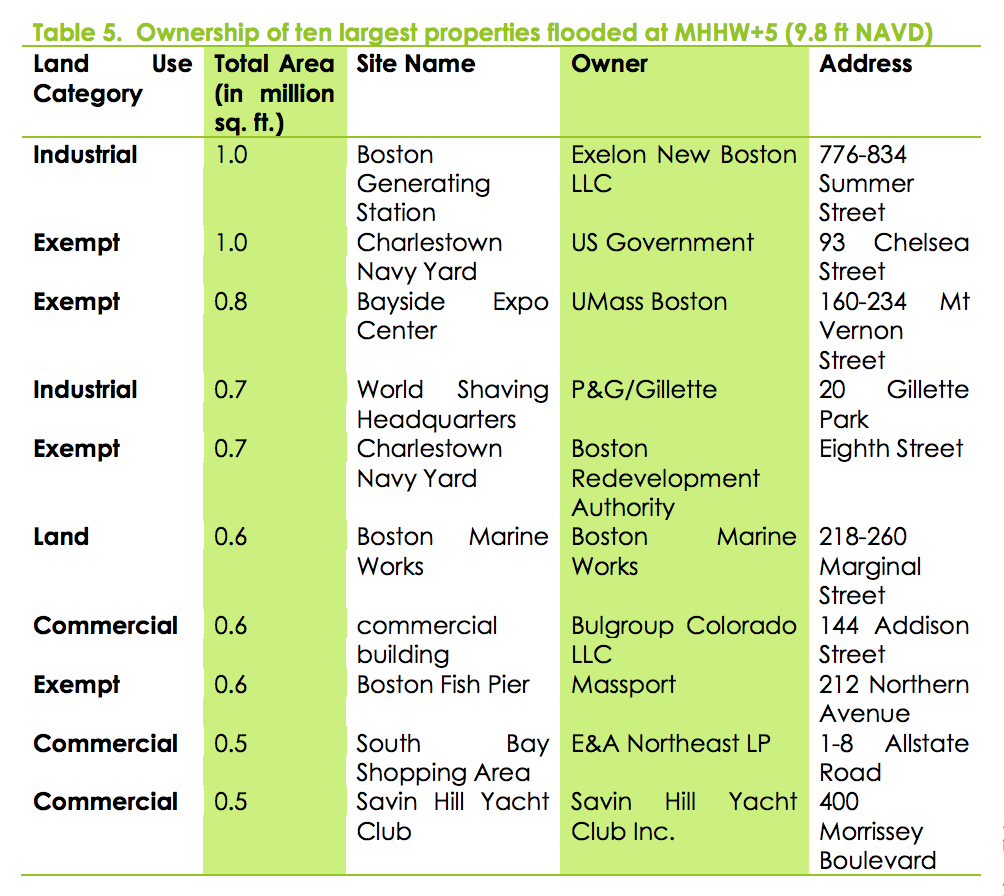 The fourth section provides the results of vulnerability analyses and sample preparedness plans for two sites in Boston: Long and Central Wharves, located in downtown Boston, and UMass Boston on Columbia Point in Dorchester. The preparedness plans developed are designed to be implemented over time as sea-level increases, underscoring the importance of continual monitoring of sea-level rise. Each case study presents detailed information on the vulnerability of particular structures, and offers response strategies, including timelines and cost estimates. 
The report concludes with overall findings and recommendations. The findings summarize the authors' assessment of expected future climate condition in New England; Boston's preparedness as of late 2012; Boston's vulnerability to coastal flooding; the city's preparedness planning; and the results of the case studies. The report provides broad recommendation for the private and public sectors.
Founded in 1973, The Boston Harbor Association has been instrumental in promoting the clean-up of Boston Harbor and in ensuring waterfront public access and public amenities along the harbor. TBHA is dedicated to addressing the challenges of climate change for a vibrant Boston waterfront. 
Publication Date: February 5, 2013
Authors or Affiliated Users:
Dr. Ellen Douglas
Vivien Li
Chris Watson
Related Organizations:
The Boston Harbor Assocation
Sectors:
Resource Category:
Resource Types:
Assessment
Policy analysis/recommendations
States Affected:
Impacts:
Air temperature
Precipitation changes
Water temperatures