Resilient Chicago: A Plan for Inclusive Growth and a Connected City
The City of Chicago, Illinois has joined the Rockefeller Foundation's 100 Resilient Cities (100RC) program and developed an urban Resilience Strategy. Resilient Chicago outlines 50 actions within three primary "Resilience Pillars" of Strong Neighborhoods, Robust Infrastructure, and Prepared Communities. The report also provides a number of case studies on Chicago's existing resilient programs and initiatives, and details specific Calls to Action that residents can take to help build the city's resilience. Climate change is considered a "Resilience Priority" in this plan and is addressed through a number of specific adaptation and mitigation actions.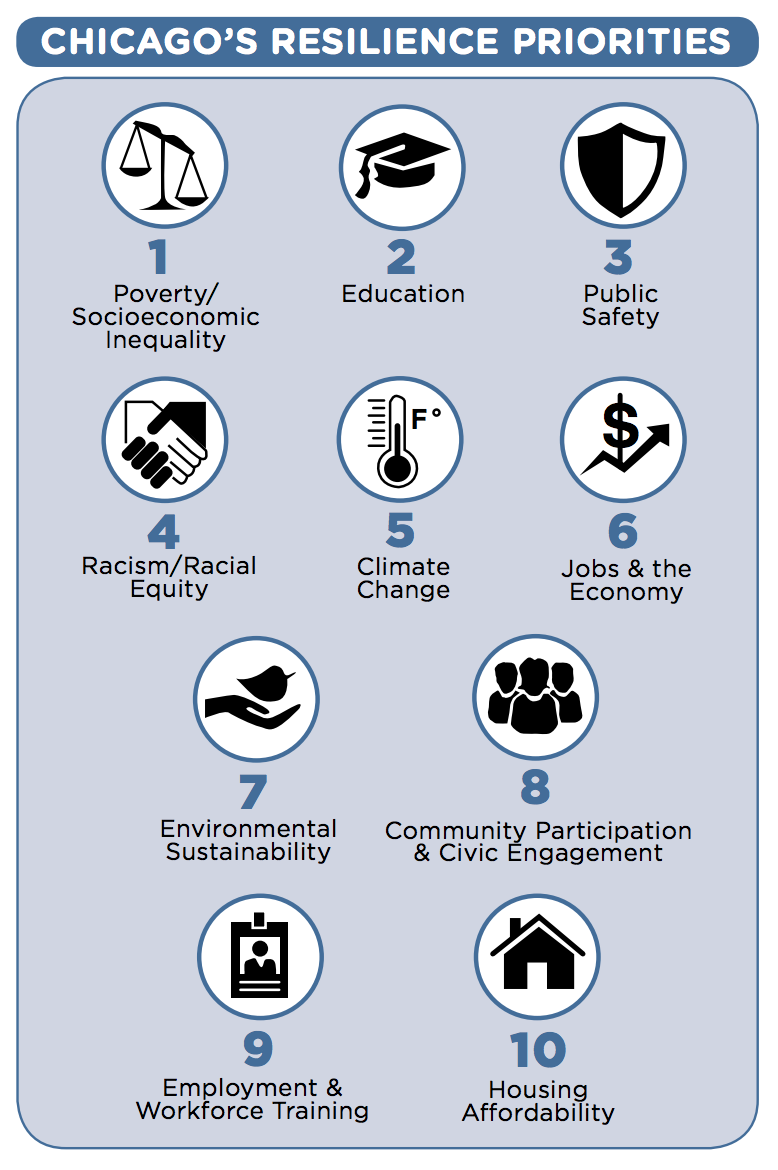 The plan for improving Chicago's infrastructure resilience includes a focus on green infrastructure investments - to reduce flooding and stormwater impacts and create more sustainable neighborhoods. This initiative includes a pilot project to implement green infrastructure across Austin, Auburn Gresham/Englewood, and Calumet Heights neighborhoods - to be designed by fall 2019. The City will also explore the feasibility of a stormwater trading program in which residents can install water detention capacity at certified "supply sites," and sell excess capacity as credits to developers from "demand sites."
The report addresses Chicago's potential for resilience as dependent on stronger social equity and cohesion. "Equity was selected as a main impact metric because of its ability to address the interconnected nature of race, economics, and geography." Chicago is committed to investing in its neighborhoods equitably. Innovative initiatives like the Neighborhood Opportunity Fund, Retail Thrive Zones, and Chicago's micro-lending program have brought resources and support into historically underserved neighborhoods on the South, Southwest, and West Sides.

Climate change is understood as a greater threat to the city's most vulnerable populations. Each of the Strategy's 50 actions includes its "Equity Impacts" to describe how vulnerable communities will be affected by the proposed actions.
Chicago has developed a City-utility partnership with Commonwealth Edison (ComEd) to collaborate in developing new energy-related technologies and business models for more resilient communities. ComEd is investing in distributed energy resources, such as rooftop solar panels and battery storage as part of a microgrid to support critical community services. 
Some of the primary Community Resilience actions include enhancing communication channels with residents, reducing resident vulnerabilities to extreme weather, and enhancing social connectedness.
Other adaptation Actions outlined in the Strategy include more resilient hazard mitigation planning by integrating more detailed analyses regarding the impacts of climate change. Chicago is also initiating an Urban Heat Response pilot project to determine best practices in mitigating the impacts of extreme heat events - including long-term planning around infrastructure and resilience investments.
As one of the 50 actions found in the strategy, Chicago has committed to utilizing 100 percent renewable energy in buildings across the city by 2035, and to transitioning to an electric CTA bus fleet by 2040. 
Publication Date: February 14, 2019
Related Organizations:
Sectors:
Resource Category:
Resource Types:
States Affected:
Impacts: