Resilient Edgemere, New York City, Community Plan
The Resilient Edgemere Community Plan is a long term plan for social and climate resilience for the coastal community of Edgemere in New York City (NYC), New York. After Hurricane Sandy, the NYC Department of Housing Preservation and Development launched the Resilient Edgemere Community Planning Initiative in 2015. Edgemere is a low-lying waterfront community located on a barrier island (the Rockaways) that continues to recover from Sandy, while increasingly vulnerable to climate change impacts such as intensified coastal storms and sea-level rise. This community development framework offers goals, strategies, and proposed investments in over 60 projects to be implemented over the next 10 years, many of which are centered on climate change adaptation.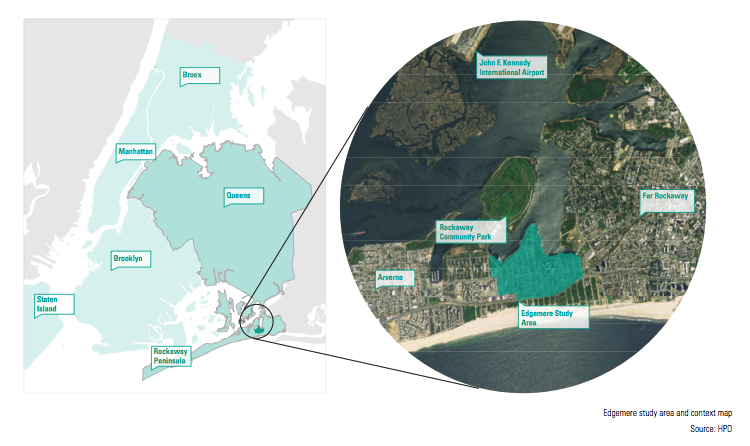 The plan is focused on protecting the Edgemere community from future storms and coastal erosion, while investing in climate resilient infrastructure, local economic development, social equity, and an enhanced quality of life for all residents. The four primary goals for the plan are to:
Protect the Neighborhood from Flooding

Create Resilient Housing and Maintain a Low-Density Feel

Improve Streets and Transportation

Increase Neighborhood Amenities (i.e. retail, jobs, communications, and health)
NYC has approved and allocated financing for many of the proposed projects, and the timeline, funding, and process for implementation is described for each project.  Focusing on coastal flooding impacts, some of the plan strategies to adapt to increased flood risk are by:
Developing coastal protection features that will protect against shoreline erosion, storm flooding and daily high tides - while enhancing active living and neighborhood ecology.
Implementation: "Of the $100 million citywide, Edgemere will receive approximately $14 million for design and construction for its Raised Shorelines project, which protects against 30 inches of sea level rise (Projected 2050s Sea Level Rise at 90th Percentile). The NYC Economic Development Corporation will procure a designer utilizing Community Development Block Grant Disaster Relief (CDBG-DR) funds. Following design, the City will use City Capital funds for construction."
Facilitating the relocation away from extreme flood hazard, to help reduce damage from floods and create opportunity for enhanced coastal protection features and amenities.
Implementation: The NYC Build it Back program "will move eligible and willing residents further inland onto property currently owned by the City. Through its acquisition program, Build it Back will also restrict housing development on property it acquires in Edgemere's HMZ by placing deed restrictions on the lots. HPD will lead the process for an urban renewal amendment to reallocate sites planned for housing to open space uses, within the HMZ."
Improving drainage and water quality for the projected changes from sea level rise increase flood risk. While traditional sewers are improved, study alternative drainage solutions for Edgemere.
Implementation: To accomplish this comprehensive recovery within Edgemere, Build it Back and HPD have worked together to employ additional strategies and tools within Edgemere, such as:
Build New Flood-Resilient Homes and Improve Resiliency of Damaged Homes

Engage Affordable Homeowners for Attached Home Lifts

Provide Financial Assistance for Abandoned Homes
Some of the proposed adaptation Project Highlights include:
41 attached homes elevated so all habitable space is above flood risk, totaling 107 units, including 51 affordable units.

$14 million for a Raised Shoreline - an elevated berm that will protect Edgemere against 30 inches of sea level rise.

16 acres of land in Edgemere's most vulnerable areas will be dedicated for use as open space, providing coastal protection.
The report's Appendix offers Edgemere Community Group Profiles - which includes local organizations that support community resilience such as housing assistance, family preservation, wildfire planning, wetlands stewardship, organic farms and more. 
Publication Date: 2017
Related Organizations:
New York City Department of Housing Preservation and Development (NYCDEP)
Sectors:
Resource Category:
Resource Types:
States Affected:
Impacts:
User Comments:
August 28, 2019
Deborah Morris, Loeb Fellow at Harvard University

This plan is a helpful way how New York City engaged local residents in a long term planning process while, in parallel, managing an active disaster recovery benefits program.