Safeguarding California Plan: 2018 Update
California's Climate Adaptation Strategy 2018 Update describes the state's progress in climate adaptation and presents an actionable plan for the near future. Building on the 2009 California Adaptation Strategy and the 2014 Safeguarding California Plan, the 2018 report is directed by Assembly Bill 1482 (2015-16) to update the state's adaptation strategy every three years.

This resource was featured in the February 23, 2018, ASAP Newsletter.
"California's 2018 update for its statewide adaptation roadmap, Safeguarding California, is out! The report features 33 case studies — here is a sample of the actions in the plan:
—33 CASE STUDIES Ranging from urban adaptation measures to rural landscaping initiatives described throughout the report. 
—2,900 FEET Length of the Pacific Coast Highway along Cardiff State Beach, which is undergoing a dune restoration effort to combat sea level rise 
—230,000 SQUARE FEET Total area of asphalt and concrete the City of Santa Barbara replaced with permeable pavement."
Guided by the California Natural Resources Agency, 27 state agencies worked together to develop hundreds of actions and recommendations for this update. In addition to the content of previous versions of the statewide adaptation plan, the 2018 Update proposes conceptual metrics for tracking climate impacts and adaptation responses. The new plan also increases the focus on equity and environmental justice, as well as updating strategies within many sectors to incorporate equity considerations.
Comprehensive strategies for improving resilience across all levels of government and state agencies are included in the first chapter. Recommendations here are to: identify significant and sustainable funding sources for investments that reduce climate risks; prioritize natural infrastructure solutions; and increase equity and resilience through investments, planning, research, and education - among others.
The report is composed of 10 different sectoral plans, in the categories of Social Systems and the Built Environment, or Natural and Managed Resource Systems, as well as a planning element focused on Climate Justice.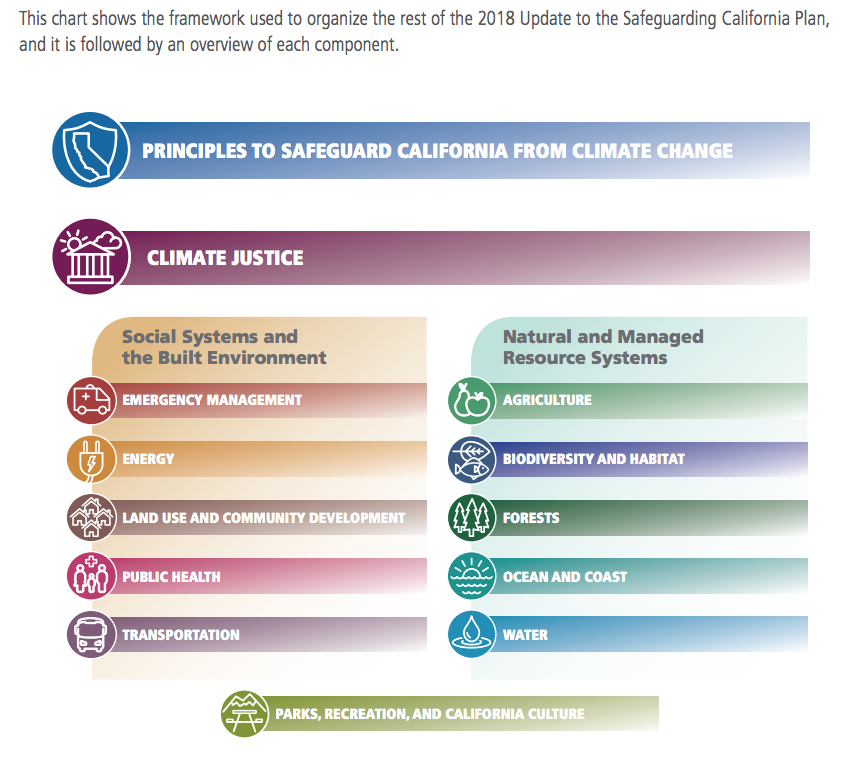 Each of the 10 Sector Plans present:
High-level Recommendations, which are broad categories of goals to guide action within each sector;
Next Steps under each high-level recommendation with objectives and strategies needed to achieve the recommendation; and
Ongoing Actions - a summary of climate adaptation projects and programs already being implemented for the sector.
 

A chapter of the 2018 Update is dedicated to Climate Justice, which demonstrates California's substantial investments and progress in promoting equity, as well as comprehensive strategies for next steps. State agencies will report annually on their progress in implementing the climate justice strategy.

 

Numerous strategies are outlined to achieve 5 Climate Justice Goals for Safeguarding California:

1. Actively engage, educate, and partner with communities to enable early, continuous, and meaningful participation in adaptation initiatives.

2. Identify the most vulnerable communities to climate change to prioritize initiatives and build grassroots capacity.

3. Support and coordinate adaptation efforts across jurisdictions and policy areas to maximize community resilience.

4. Promote holistic approaches to climate adaptation that maximize co-benefits and economic development.

5. Make equity an integral consideration for climate research.

 
A supplemental report Safeguarding California In Action: Climate Change Adaptation Examples from State presents case studies of successful adaptation projects for each of the plan's focal sectors. 
Publication Date: January 30, 2018
Related Organizations:
Related Resources:
Sectors:
Fish and fisheries
Forestry
Land management and conservation
Oceans
Wildlife
Resource Category:
Resource Types:
Adaptation plan
Progress report
States Affected: