Toward a Climate-Resilient Austin
This report initiates the City's planning process for climate adaptation and resiliency for Austin, Texas; which was commissioned by the Austin City Council. Drawing on climate projections for Central Texas, the report includes a preliminary analysis of Austin's climate-related threats and potential impacts to the operations and assets of nine city departments. Final recommendations are provided, focused on improving climate projections and vulnerability assessments, integrating resilience strategies within departmental planning, and coordinating with regional partners.
Major climate stressors include an increase in hot days during the summer, increased intensity of precipitation, and a decrease in precipitation (drought). This report relies on climate analysis produced by Dr. Katherine Hayhoe from Texas Tech University.
This assessment recognizes that climate change is likely to disproportionately impact vulnerable communities and that tailored strategies are needed to decrease such impacts. Austin/Travis County Health and Human Services identifies 

the very old, very young, homeless, socially or economically disadvantaged, and isolated populations to be at greater risk. The departments of Fire and Emergency Management also acknowledge the need to prepare for displacement among Austin residents and the arrival of evacuees and refugees coming to Austin due to catastrophic events.

In addition to economic and environmental impacts, all participating city departments describe the potential social consequences of exceeding various climate thresholds. These include difficulty accessing basic and emergency services and a range of health concerns related to reduced water and air quality, extreme heat, exposure to disease-carrying animals and insects, reduced safety and availability of food and water supplies, and exposure to allergens.

 

The report is organized by city department, analyzing for each:
The department's mission and context as it relates to climate change;

examples of recent extreme weather events and their impacts on the department;

potential future environmental, social, and economic impacts from climate change on departmental operations, asset management, and plans; and

how planning could be enhanced to better integrate climate change.
Participating departments include: Transportation, Public Works, Austin Energy, Austin Water Utility, Watershed Protection, Parks and Recreation, Health and Human Services, Fire, and Emergency Management. For each, risks to assets and opportunities to better address climate risk in specific plans are summarized in tables. Below are the summary tables for the Austin Energy section: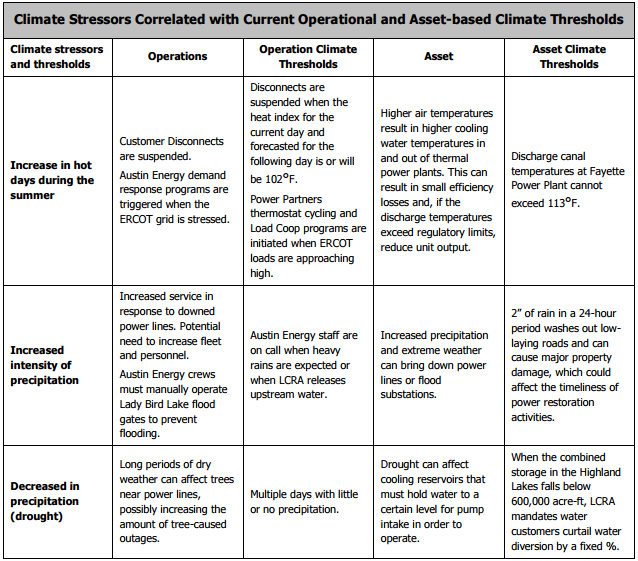 Publication Date: May 1, 2014
Related Organizations:
Sectors:
Land management and conservation
Tourism and recreation
Resource Category:
Resource Types:
States Affected:
Impacts:
Air temperature
Precipitation changes
Wildfires