Virginia Beach Sea Level Rise Policy Response Report
In 2019, the City of Virginia Beach, Virginia released its Sea Level Rise Policy Response Report which identifies climate adaptation strategies, objectives, and potential legal and policy actions it could adopt to reduce Virginia Beach's short- and long-term flood risk. The flood issues in Virginia Beach are multifaceted and the City is considering a range of adaptation responses — from engineering and planning to regulations and market-based tools — with the aim of pursuing a long-term, comprehensive approach. This report is one part of a larger study — known as the Comprehensive Sea Level Rise and Recurrent Flooding (CSLRRF) Study — that Virginia Beach initiated in 2014 to provide a systematic response to increasing flooding. It can serve as an example for other local coastal governments on how to identify and prioritize potential legal and policy actions to adapt and become more resilient to sea level rise, and to coordinate those actions across other related agencies and efforts. 
The objectives are aligned with seven of the City Council's strategic goals to ensure that actions taken to adapt to sea level rise and enhance resilience are consistent with existing City initiatives and plans. For each primary objective, the priority of each potential legal and policy action are ranked (i.e., in progress, low, medium, or high), and the primary benefits and considerations the city should evaluate for that action are listed. One of the benefits included in the report is the number of points the city can earn for each action if it joins the Community Rating System (CRS). CRS is a voluntary program administered by the Federal Emergency Management Agency under the National Flood Insurance Program that allows participating local governments to earn discounts on their residents' flood insurance premiums by implementing different flood hazard mitigation actions. 
The seven goals in the report build off of Virginia Beach's Strategic Plan to Achieve City Council's Vision for the Future (2016–2018), the 2017–2022 City Council Goals, and the Hampton Roads Hazard Mitigation Plan. For each of the seven goals, the City identified strategies, specific corresponding objectives, and prioritized action items. According to the report, "The goals serve as primary outcomes, the strategies contain the [c]ity's overarching approach to achieve the goal, the objectives are focus areas that are vital to achieving the strategy, and the actions are specific prioritized tactics the [c]ity can explore in pursuit of meeting the outlined objectives." In addition, benefits and considerations, including administrative needs, environmental impacts, legal concerns, and funding opportunities, provide more information that can be factored into the city's future discussions.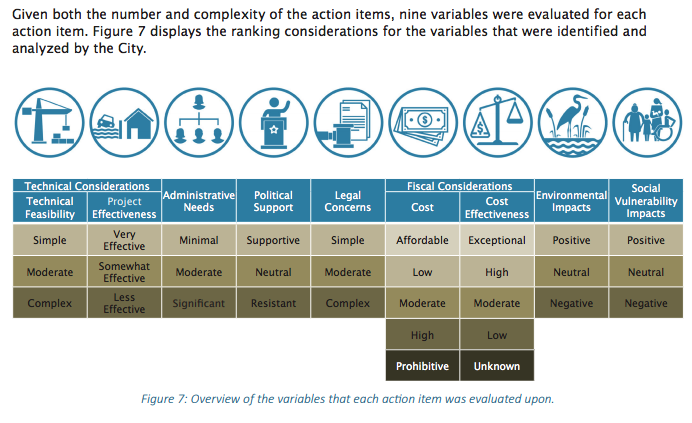 Each of the report's seven goals and strategies are listed below along with some of the city's proposed actions that can be taken to achieve that goal:
Plan for a future with more frequent and intense flooding:

Incorporate the most recent sea level rise, precipitation, and recurrent flooding data, such as the CSLRRF analysis outputs, including future flooding considerations, into all relevant city plans and process documents during their next update, or no later than 2025.
Potential action items include: Incorporating this data into the city's comprehensive, hazard mitigation, emergency response, and floodplain management plans.  
Enhance the flood resilience of critical infrastructure and invest in capital improvements to reduce community flood risk:

Incorporate sea level rise projections and increasing flood risk into the design of new capital improvement projects, the retrofit of existing infrastructure, and the maintenance and operations of all city-owned assets by 2050. 
Potential action items include: Working across city agencies and different local jurisdictions to leverage funding and cooperation to implement projects like by integrating proposed recommendations from the CSLRRF Study into capital improvement planning and budgeting and transportation and stormwater planning and management; developing asset management plans for critical assets; and investing in back-up power and microgids for city-owned facilities, especially critical facilities.
Enhance the flood resilience of buildings and neighborhoods:

Utilize the findings of the most recent sea level rise, precipitation, and recurrent flooding data and research to bolster the Virginia Beach community against the threat of sea level rise, increasing the resilience of neighborhoods across the city by 2080. 
Potential action items include: Revising the city's land use codes and policies to incorporate flood resilience and ensure consistency across different codes; amending the city's floodplain ordinance to ensure the private development is designed and sited to be more resilient to future flood risks; joining the CRS program; amending setback and buffer, subdivision, and historic property requirements for new development and redevelopment.
Protect and enhance the local economy:

Promote local business and economic resilience in Virginia Beach through increased outreach, education, vulnerability assessments, data sharing, and collaboration regarding flooding hazards and preparedness strategies between the city and local businesses.
Potential action items include: Engaging and educating local businesses on flood risks, sea level rise, flood insurance, and hazard mitigation strategies; developing grant or loan programs to encourage businesses to install more resilient features; and creating workforce development programs to train residents to provide resilient services.
Preserve and enhance natural flood buffers and open space:

Promote new conservation and preservation programs in the city while continuing to expand on current initiatives to propagate natural flood buffers and open space throughout the community.
Potential action items include: Enhancing city programs that can be used to preserve open space through voluntary acquisitions, conservation, and preservation easements; enhancing city efforts to encourage the use of living shorelines; and evaluating the potential to establish either a Purchase or Transfer of Development Rights program to transfer development rights from high-risk to higher ground areas.
Improve city coordination and responsiveness to community flood concerns:

Ensure active internal and external coordination to align priorities, build coalitions, leverage resources, and educate the public in order to facilitate the progression of resilience activities. 
Potential action items include: Improving internal city and regional coordination; and developing programs to support public education and outreach about flood risks and resilience. 
Advocate for changes in state and federal law and policy to incentivize, support, and fund local resilience implementation:

Advocate for changes to state and federal policy to reduce or remove impediments to flood hazard mitigation activities and promote resilient infrastructure. 
Potential action items include: Identifying legal and policy barriers at the state and federal levels to implementing flood hazard mitigation actions and promoting resilient infrastructure and advocating for strategies to remove or mitigate those barriers (e.g., seek new legislation to fund local investments in critical infrastructure to reduce flood risks in coastal communities).
The development of the action items included in the report were informed by the city and a consultant team researching national examples, interviewing and having discussions with city staff, hosting workshops, having multiple meetings with the Virginia Beach Sea Level Rise City Manager's Working Group. In addition, the city's process to rank action items was the result of a collaborative exercise that included staff from different city agencies. Georgetown Climate Center was a part of the consultant team that helped to develop this report. 
The CSLRRF Study was developed through a three-phased effort that began with the city understanding its current and future flood hazards and risks, identifying potential adaptation actions, and planning for and implementing potential actions. This report synthesizes work undertaken during phase two of the CSLRRF Study, but is intended to be used by the city as a standalone document. Both the CSLRRF Study and report feed into the city's overall adaptation plan that uses a watershed-based approach: Virginia Beach Sea Level Wise Adaptation Strategy.  
The CSLRRF Study was funded through the city's Capital Improvement Plan ($3 million over five years) and a grant from the National Oceanic and Atmospheric Administration's Office for Coastal Management ($844,000 awarded in 2016). 
Publication Date: December 2019
Author or Affiliated User:
Related Organizations:
City of Virginia Beach, Virginia
Related Resources:
Related Toolkits:
Sectors:
Resource Category:
Resource Types:
Agency guidance/policy
Plans (other)
Policy analysis/recommendations
States Affected:
Impacts: