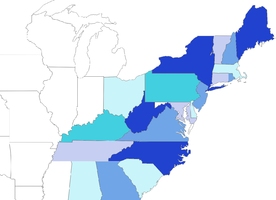 State Government Professionals
State action to prepare for climate change is essential for preparing the nation as a whole. This network provides state professionals access to resources specifically tailored for state decisionmakers. State climate adaptation leaders can find examples of innovative state policies, agency guidance, and sector specific tools.  State actors can also share key resources with one another by uploading resources to the site. 
READ MORE
This network page was created in coordination with state leaders from across the United States that participate in the Georgetown Climate Center's State Adaptation Policy Forum.  
SHOW LESS
State Policy Forum - Managed Retreat
GCC hosts a bi-monthly phone call with select State representatives. This tab features resources on managed retreat as one strategy to adapt to rising seas, flooding, and land loss, the topic for the October 2018 call. 
Resource
This NOAA website explains the concept of managed retreat as an adaptation strategy to address issues caused by sea-level rise and increased storm surge and erosion. It describes two case studies of managed retreat projects in Pacifica and Ventura California.
Related Organizations: NOAA Office for Coastal Management
Resource Category: Solutions
See Resource Login to Add to My Resource List
Resource
2016
In this report, the Lincoln Institute of Land Policy and the Regional Plan Association present best practices for state and local governments to encourage residents and communities vulnerable to flooding to relocate from coastal and riverine areas through managed retreat. Based on the experiences of communities in New York, New Jersey, and Connecticut following Hurricanes Sandy (2012) and Irene (2011), the report summarizes the political, social, and economic challenges of using buyouts and acquisitions as an adaptation strategy.
Related Organizations: Lincoln Institute of Land Policy, Regional Plan Association
Authors or Affiliated Users: Robert Freudenberg, Ellis Calvin, Laura Tolkoff, Dare Brawley
Resource Category: Solutions
See Resource Login to Add to My Resource List
Resource
April 2017
This Action Guide is designed to support local decision makers in utilizing hazard mitigation buyouts to reduce flood hazards, while supporting habitat connectivity and resilience on these lands. The report describes the floodplain acquisition process, why to manage acquisitions to improve habitats, and how to leverage the potential ecological and social value of properties to improve climate resilience.
Related Organizations: Environmental Law Institute (ELI), University of North Carolina
Resource Category: Solutions
See Resource Login to Add to My Resource List
Resource
June 2011
Developed through the U.S. Environmental Protection Agency's (EPA) Climate Ready Estuaries program, this primer identifies approaches for inland migration of beaches and wetlands as sea level rises due to climate change. The report describes how these measures can be used by state and local governments in cases where traditional protective measures such as the construction of dikes, seawalls, and other structures may prove economically or environmentally unsustainable.
Related Organizations: U.S. EPA Climate Ready Estuaries
Author or Affiliated User: James G. Titus
Resource Category: Solutions
See Resource Login to Add to My Resource List
Resource
July 2013
The Hawaii Ocean Resources Management Plan (ORMP) is a statewide plan that presents the State's ocean and coastal resource management priorities, and provides guidance to state agencies with responsibilities relating to marine and coastal zone management. The ORMP was updated in July of 2013, and was developed under the Hawaii State Office of Planning Coastal Zone Management Program with the participation of county, state and federal agencies responsible for ocean and coastal resources, along with input from the community.
Related Organizations: Hawaii State Office of Planning, National Oceanic and Atmospheric Administration (NOAA)
Resource Category: Law and Governance
See Resource Login to Add to My Resource List
Resource
The Surfer's Point Managed Shoreline Retreat Project involved the relocation of a bike path and parking lot along 1,800 feet of shoreline in City of San Buenaventura, Ventura County. The transportation assets affected by the project include a damaged bike path, a 223-space parking lot for the Ventura County Fairgrounds, and Shoreline Drive.  Surfer's Point is a beach and popular surf break at mouth of the Ventura River. 
Resource Category: Solutions
See Resource Login to Add to My Resource List
Resource
2011
The City of Ventura, California, has had ongoing erosion at Surfer's Point, a popular surfing spot, adjacent to the mouth of the Ventura River. A California State Park bike path along the shoreline and an adjacent County Fairground parking lot, have also experienced frequent damage from erosion. Local stakeholders collectively approved a plan to move the parking lot, pedestrian path, and bike path away from the tideline, instead of building a seawall or other coastal armor, which was projected to permanently damage the beach and surf break.
Related Organizations: The Surfrider Foundation, California Coastal Commission, California Department of Parks and Recreation, California State Coastal Conservancy
Resource Category: Solutions
See Resource Login to Add to My Resource List
Resource
May 21, 2012
The Ocean Beach Master Plan (OBMP) provides a long-term strategy for responding to sea-level rise impacts anticipated along the 3. 5-mile stretch of San Francisco's Ocean Beach, and suggests recommendations for adapting the Great Highway, which runs adjacent to the beach. The strategy focuses on the protection and relocation of transportation infrastructure, including: (1) rerouting the southern portion of the Great Highway; (2) protecting and restoring the shoreline and beach; (3) reducing the width of the Great Highway; (4) repairing seaside dunes; (5) facilitating faster travel between Golden Gate Park and Ocean Beach; and (6) improving bicycle paths and sidewalks near Ocean Beach.
Related Organizations: San Francisco Public Utilities Commission, State of California, San Francisco Planning and Urban Research Association (SPUR), City and County of San Francisco, California
Resource Category: Planning
See Resource Login to Add to My Resource List
Resource
Several Cape Cod towns and the Cape Cod Commission have taken specific measures to adapt beach parking lots to the impacts of climate change, including extreme storms and sea-level rise that are causing increased beach erosion.    These coastal communities are rethinking "quick fix" repairs to vulnerable parking infrastructure and are instead implementing a variety of soft and hard measures as more permanent solutions to long-term climate change impacts.   Many of the town activities were captured in the adaptation blog "Great American Adaptation Road Trip" by Allie Goldstein and Kirsten Howard, graduates of the University of Michigan's School of Natural Resources and Environment.
Resource Category: Solutions
See Resource Login to Add to My Resource List
Resource
2018
The Louisiana Strategic Adaptations for Future Environments (LA SAFE) planning process is aimed at climate adaptation and resilience planning for coastal communities in Louisiana. The strategy supports mitigating risks and increasing resilience to coastal impacts - especially flooding. The LA SAFE initiative was first funded through a HUD long-term disaster recovery grant, for six parishes most impacted by Hurricane Isaac in 2012.  Guided by the state of Louisiana, and a network of regional non-profits focused on coastal restoration and resilience, it is a goal of the LA SAFE program to expand the program statewide in the future.
Related Organizations: State of Louisiana, U.S. Department of Housing and Urban Development (HUD)
Resource Category: Solutions