County of San Mateo, California Sea Level Rise Vulnerability Assessment
San Mateo County, California is particularly vulnerable to sea level rise as it is bound by the Pacific Ocean to the west and the San Francisco Bay to the east. This comprehensive 200+ page sea level rise vulnerability assessment offers a highly detailed analysis of the current and future coastal flooding and erosion risks for the County in terms of various sectors and networked infrastructure including critical infrastructure assets, impacts on human mental and physical health, vulnerable populations, and natural communities and ecosystems. The report includes strategies to prepare the County for sea level rise, and an overview of the climate adaptation process, generally, and in terms of what the County has achieved. Recommended next steps and sea level rise adaptation strategies are given, including community level equity and health recommendations, along with coastal land use strategies.  
The extensive vulnerability data analysis and discussion describes both built and natural assets, and each section includes an overview of the degree of asset exposure, sensitivity, and adaptive capacity, as well as the potential consequences from the temporary or permanent loss of an asset. Vulnerability and exposure in San Mateo County is highly detailed an mapped for:
Existing

Land Use

Patterns

Natural Assets

including: Beaches, Faunal Species, Groundwater, Kelp, Rocky Intertidal Habitat, Wetlands

Built Assets

of: Flood Protection Infrastructure, Airports, Hazardous Material Sites, Energy Infrastructure and Pipelines, Ground Transportation, Community Land Use, Services, and Facilities, Wastewater Systems, Stormwater and Interior Drainage, Seaports, Homeless Shelters, and Parks and Recreation Areas.
The section on Community and Health Vulnerability overviews sea level rise impacts to public health including: Disruption of medical services and health-supporting infrastructure, Physical Injury or death, Infectious Disease, Mental Health, Displacement, and Income Loss.
The project used sea level rise inundation data from USGS modeling data, and Point Blue's Our Coast, Our Future tool. Three sea level rise scenarios and one erosion impact scenario were utilized. A number of maps represent the mid-level scenario in which estimated impacts are based on a 1% annual chance storm, plus additional 3.3 feet of sea level rise.
The community vulnerability methodology developed by the Association of Bay Area Governments and BCDC for the resilience program Stronger Housing, Safer Communities was adopted to better understand vulnerabilities and social equity issues that make certain communities and populations of San Mateo County more vulnerable to climate impacts and sea level rise. Demographic indicators are discussed that increase vulnerability, including: Age (Children and Elderly), Race, Language/Limited English Proficiency, Limited Education, Low Income, Housing Vulnerability, and Limited Access to Vehicles. Each of these categories of vulnerability are also mapped within the County (see Figure 3C.2 image above).

In addition, the Assessment includes a Community Vulnerability Profile (Appendix D) for East Palo Alto, to better understand what makes this community more vulnerable, and what localized issues should be integrated into adaptation solutions.
The assessment identifies areas with increased community vulnerability as those where three or more of the demographic indicators are present.  This section includes a series of community vulnerability maps for each indicator.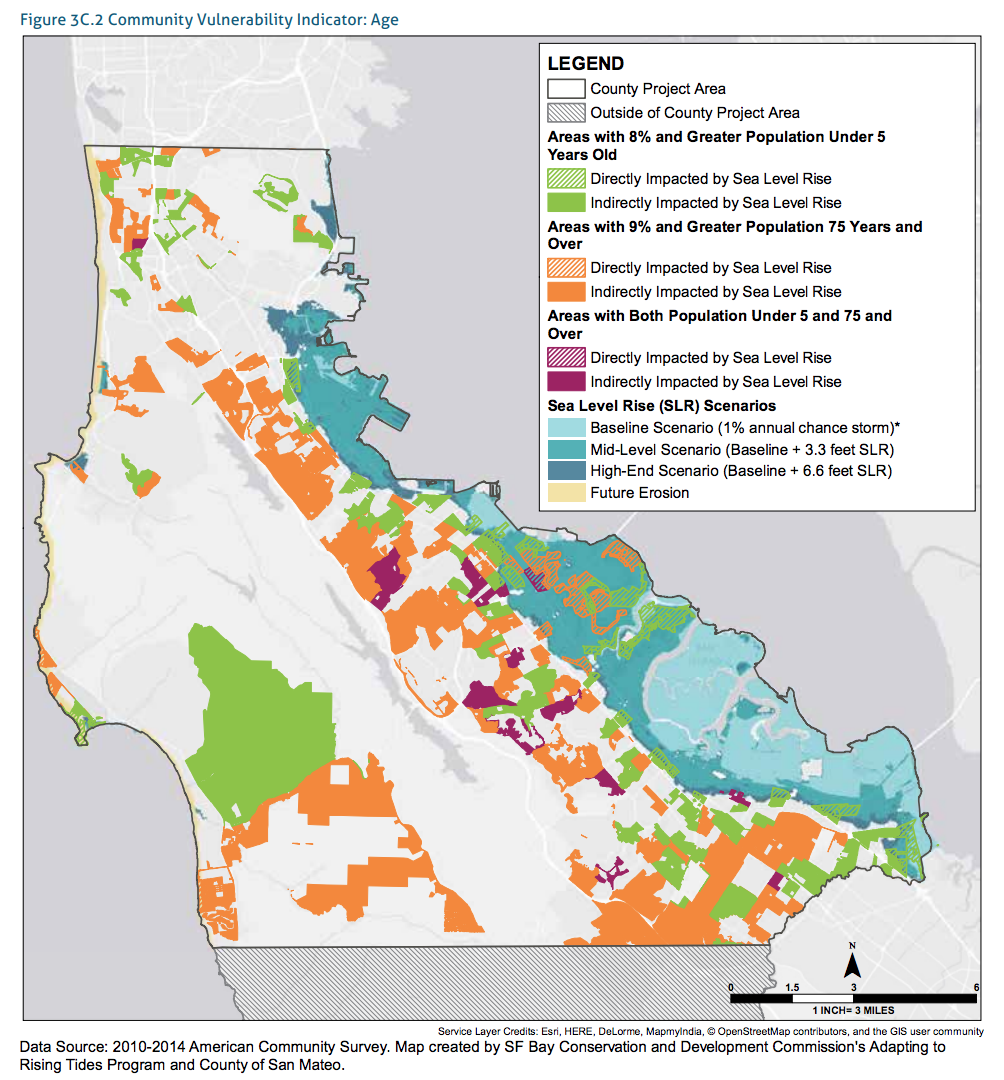 The Adaptation Planning chapter provides a general overview of the process of adaptation planning, support in choosing adaptation options, and describes many valuable adaptation options for the County. Suggested adaptation strategies include policy and planning recommendations, natural solutions and physical structures, and other methods for protecting assets from sea level rise.
In addition, an extensive City- and County-Specific Analysis is provided for: Belmont, Brisbane, Burlingame, Daly City, East Palo Alto, Foster City, Half Moon Bay, Menlo Park, Millbrae, Pacifica, Redwood City, San Bruno, San Carlos, San Mateo, South San Francisco, and an Unincorporated Area.  Asset exposure inventory tables provide a tally of the types of built and natural assets in each area, and how many of those assets are expected to be exposed to the flooding, erosion, and sea level rise scenarios evaluated for each project area.
Chapter 5, Getting Ahead of Sea Level Rise provides near- and long-term recommendations for County, cities, asset managers, and other stakeholders in the region. Some example recommendations from the report include the use of:
Levee projects (The City of Foster City and San Mateo): Increase the height of shoreline levees to protect homes, schools, businesses, and community facilities.
Wetland Restoration (South Bay Salt Ponds Restoration Project): Restore industrial salt ponds to tidal wetlands and natural habitats to maintain and enhance biodiversity, flood protection, and recreational access.
Transportation Corridor Protection: Restore habitats to provide a buffer; or elevate, fortify, or relocate roadways to keep the public transportation and road systems we all depend on for work, school, and life – like CalTrain, BART, Highway 101, CA 92, and CA 1 – up and running in the years ahead.
Publication Date: March 13, 2018
Related Organizations:
San Mateo County, California
Sectors:
Resource Category:
Resource Types:
States Affected:
Impacts: