Resilient Los Angeles - 100RC Resilience Strategy for Los Angeles, California
The City of Los Angeles, California - in partnership with The Rockefeller Foundation's 100 Resilient Cities (100RC) - released its first citywide Resilience Strategy. The plan describes nearly 100 adaptive actions for extreme events, disaster preparedness and resilient infrastructure, as well as pervasive issues such as social inequities, and climate change. Los Angeles Mayor Garcetti signed an executive directive in conjunction with the Strategy, that requires City departments to appoint Chief Resilience Officers, who will play a significant role in furthering the implementation of the 100 RC strategy.

This resource was featured in the July 13, 2018, ASAP Newsletter.
"In Los Angeles, CA four campuses attended a training on the Community Resilience Building workshop, a tool that informed their own resilience assessments and local partnerships. Building upon this work, the City of Los Angeles is launching the Campus Resilience Challenge as part of the city resilience plan."
The measurable targets defined for climate adaptation in Los Angeles include to:
Prepare for the impacts of climate change by developing a comprehensive citywide climate risk and vulnerability assessment by 2019.

Accelerate reductions in greenhouse gas emissions and meet or exceed climate resilience outcomes consistent with the Paris Climate Agreement by 2020.

Develop and implement urban heat island reduction plans and demonstration projects in our most vulnerable neighborhoods by 2022.

Increase access to green space and open space through investments along the Los Angeles River system and in underserved neighborhoods by 2028.

Increase equitable tree canopy coverage by 2028.
Resilient Los Angeles is organized around four main themes, which then include 15 major goals, and 96 actions within.
I. Safe and Thriving Angelenos
II. Strong and Connected Neighborhoods
III. Prepared and Responsive City
IV. Pioneering and Collaborative Partner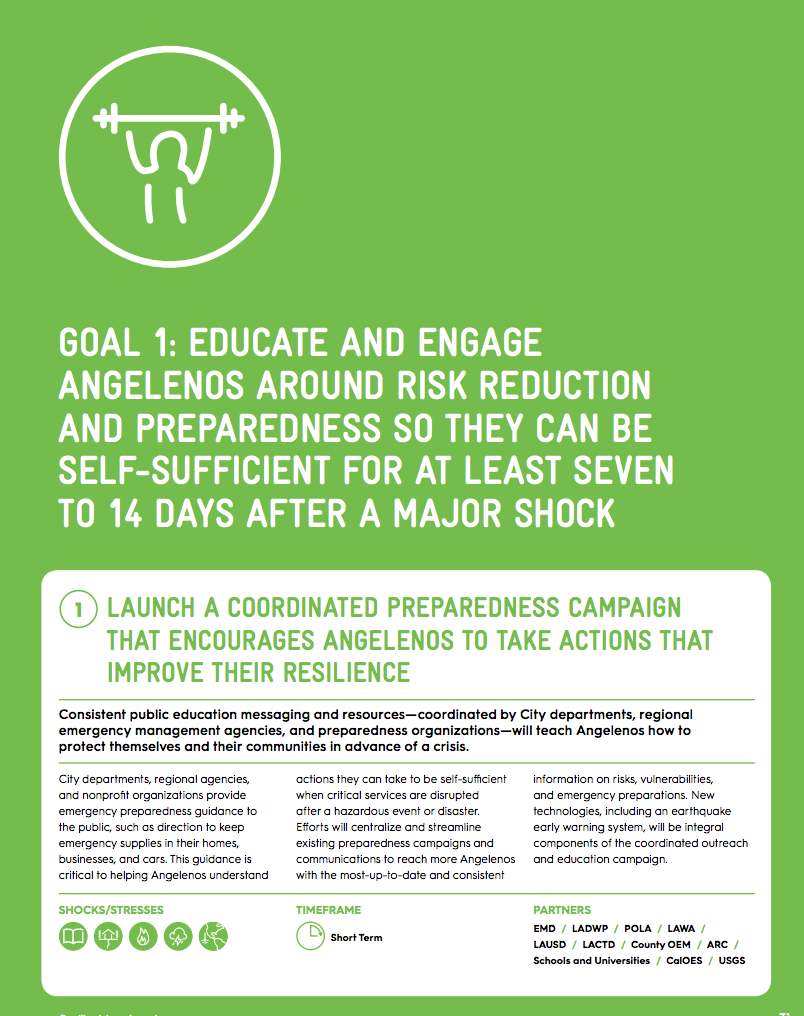 Approximately one-third of the actions defined in the report, are steps that are currently underway, a third are actions that integrate resilience into existing efforts, and a third are new actions to address building resilience in Los Angeles. Each action is defined by scale and goal, and identifies associated shocks, stresses, timeframe, and partners.
Drought, water quality and water supply are significant issues for Los Angeles, and in response, the city also plans to revitalize the Los Angeles River. The river was channelized in the 1930's and is heavily impacted from pollution, so the overall goal is to protect the river and enhance the biodiversity of the region, through stakeholder collaboration. Strategies "will likely include stormwater capture, stream and tributary protection, increased tree canopy, restored native vegetation and riparian habitat, removal of invasive species, and habitat improvements for birds and mammals."
Publication Date: March 2, 2018
Related Organizations:
City of Los Angeles, California
Sectors:
Resource Category:
Resource Types:
States Affected:
Impacts:
Air temperature
Socioeconomic